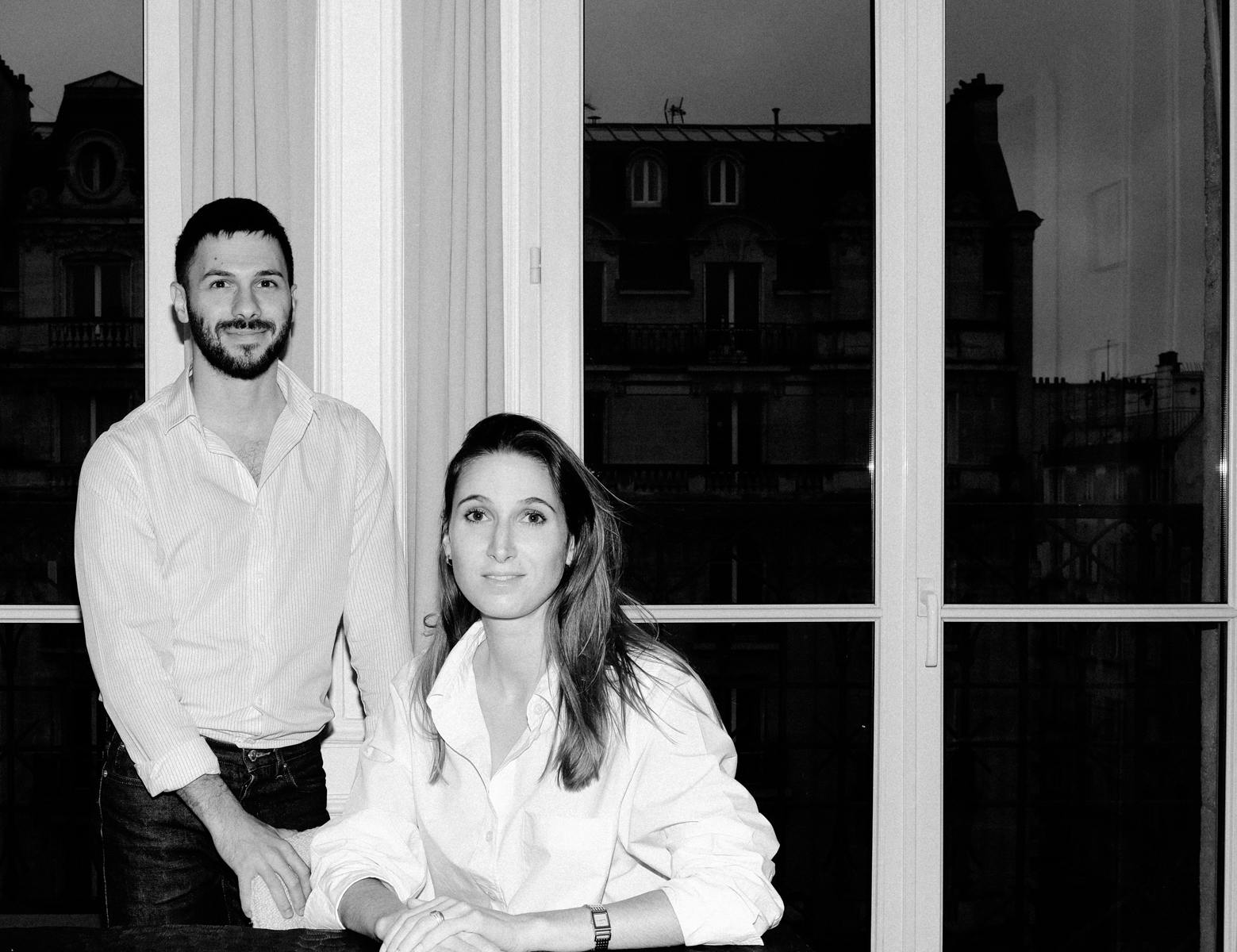 (Paris, France)(Ceramic, Wood, Multi)(Studio Visit)2023-11-14
Studio Visit with Savannah Bay Gallery
We visit the Paris Showroom of Savannah Bay Gallery with co-founders Lena Jaroschek and Quentin Daly.
---
It was the first day of Autumn and a torridly dark and stormy morning, the Eiffel Tower overlooking the wet zinc rooftops from the view out the window. Paris may be the only city where dark and stormy skies are even more romantic than sunshine. "What terrible luck. The showroom is usually flooded in golden light this time of day," Quentin mentioned as I put my bag down. I personally found the juxtaposition of the violent weather outside with the warm, meticulously crafted pieces within the showroom the perfect combination to bring them into focus. You want your space to make you feel warm and thankful to be within it, regardless of the weather.
After years of working in Art Auction Houses and Galleries, Lena Jaroschek saw a gap in an antiquated market. Traditional Art Galleries, the inner workings and dealings veiled in many layers of opacity, have been a relatively dusty and stagnating format begging to be reconsidered. With partner, Photographer and Art Director Quentin Daly, the duo found an equilibrium in their complementary backgrounds and skillsets and a vision for a new way of approaching the Art and Design Market.
With an aim to create both an efficient process for customers, more transparency in pricing with a digital catalogue and the opportunity to purchase and commission work from designers from every corner of the globe – Savannah Bay Gallery was born. They insist they didn't set out to be iconoclasts; nevertheless, without ever participating in a trade show or putting on an exhibition, they seem to be miles ahead of some well-known brick-and-mortar galleries, working with some of the biggest names in the business.
We sat down to discuss everything from start to finish.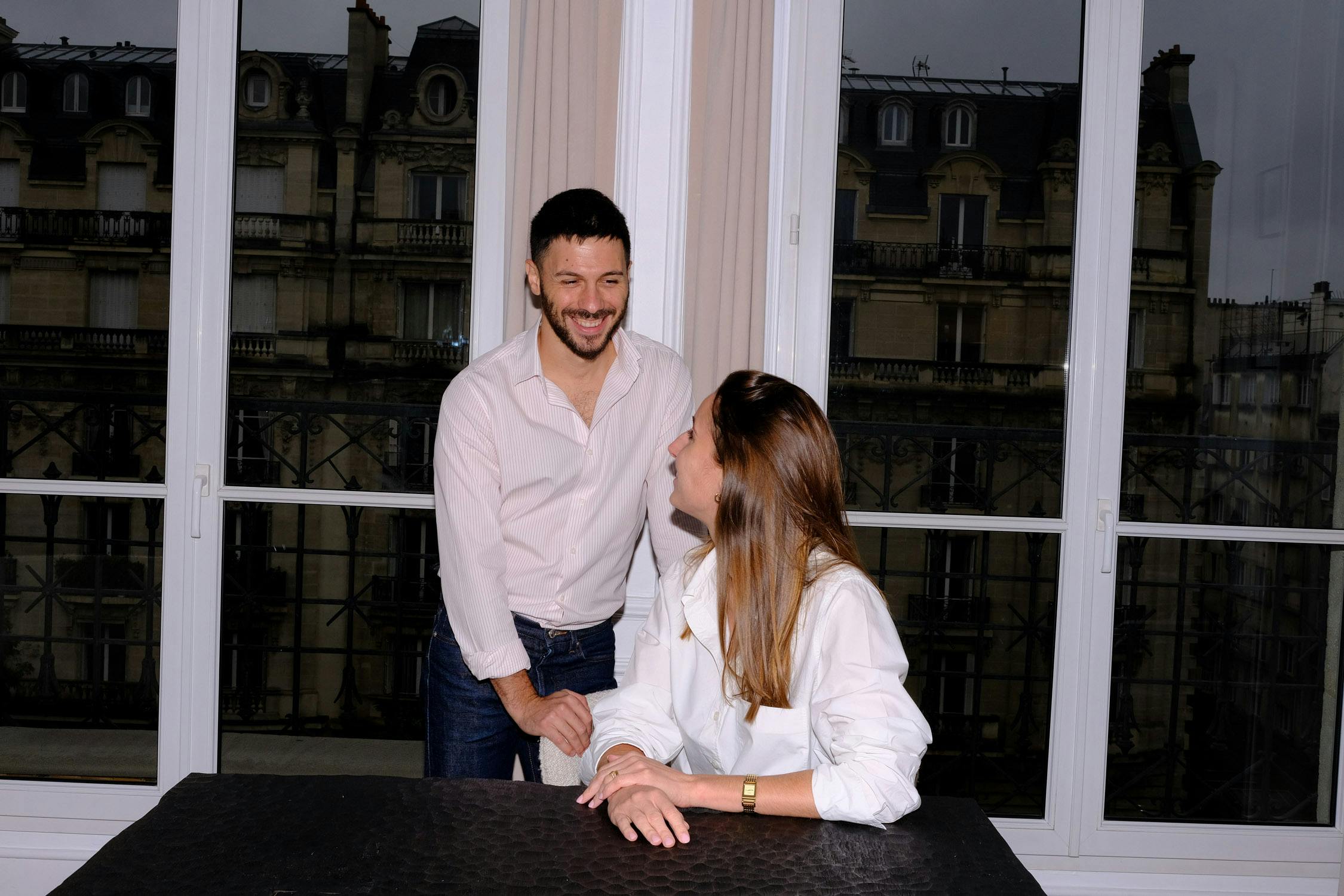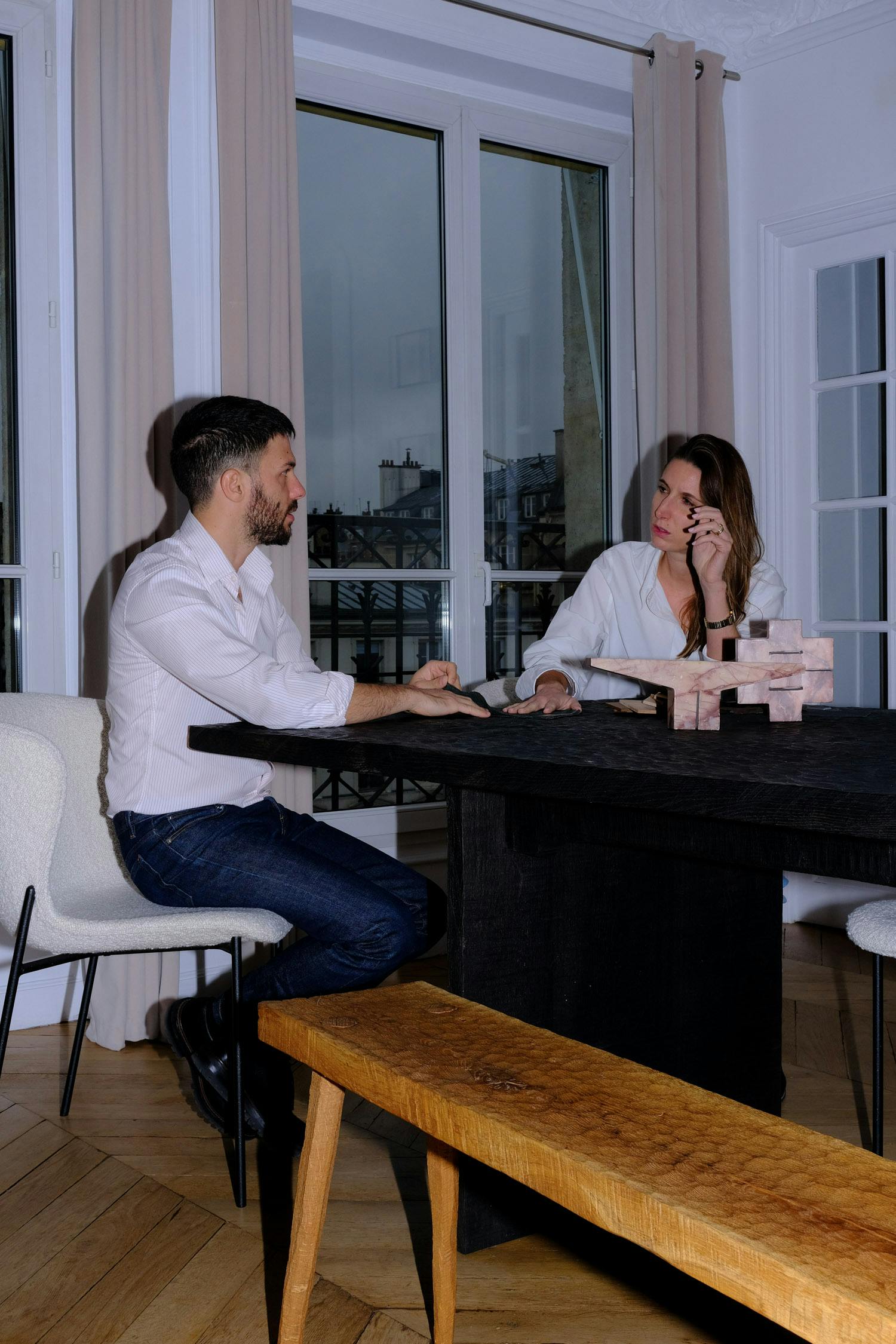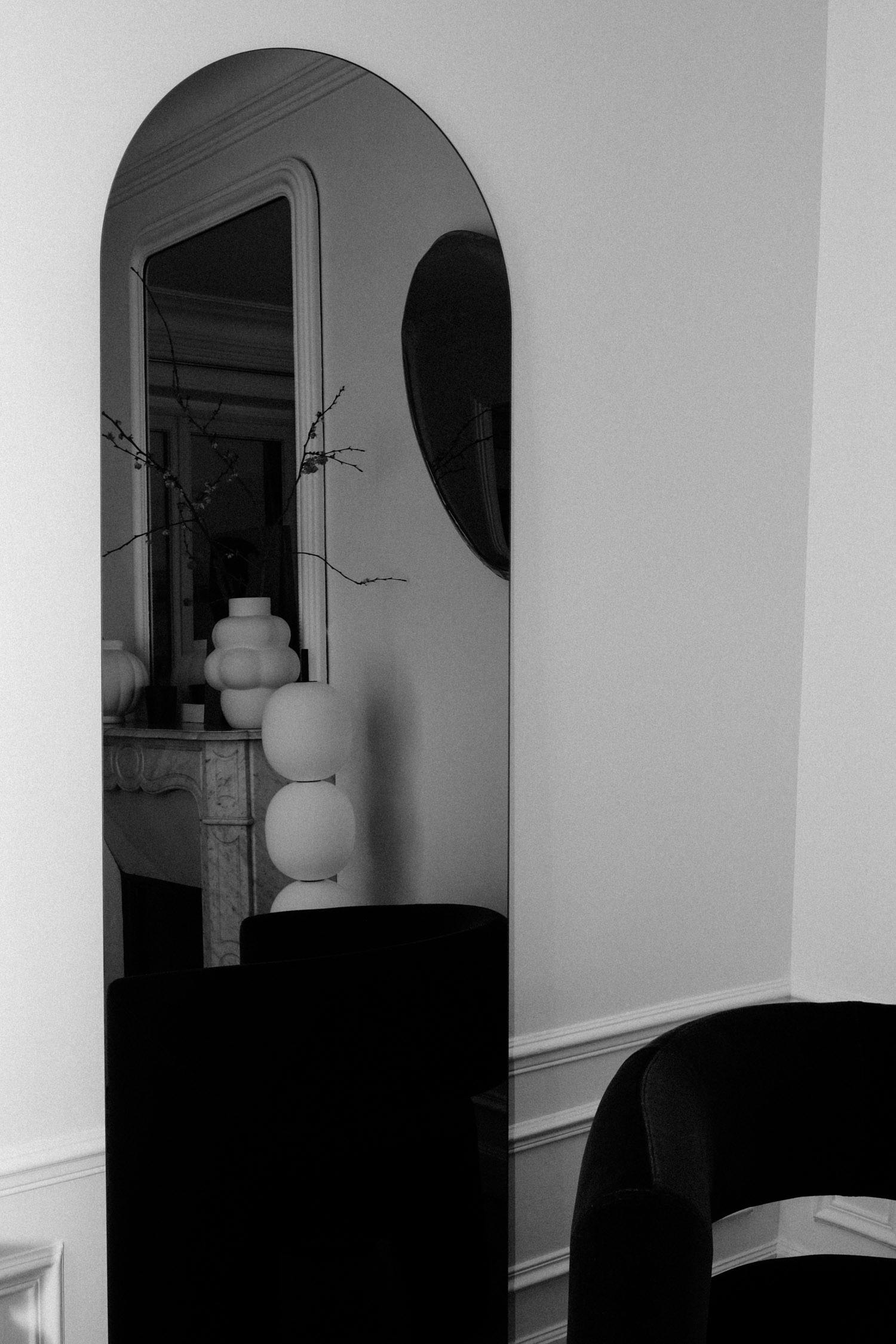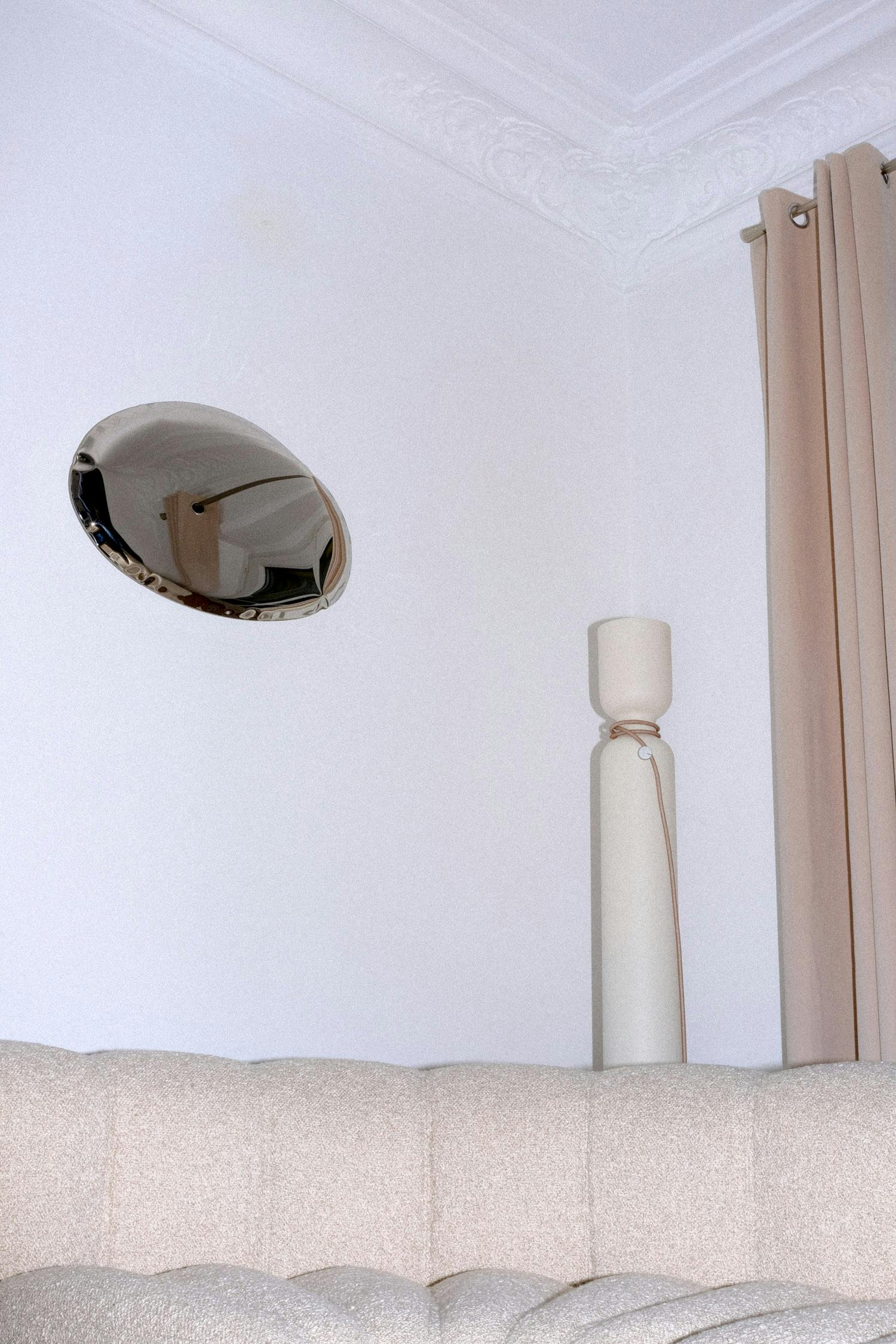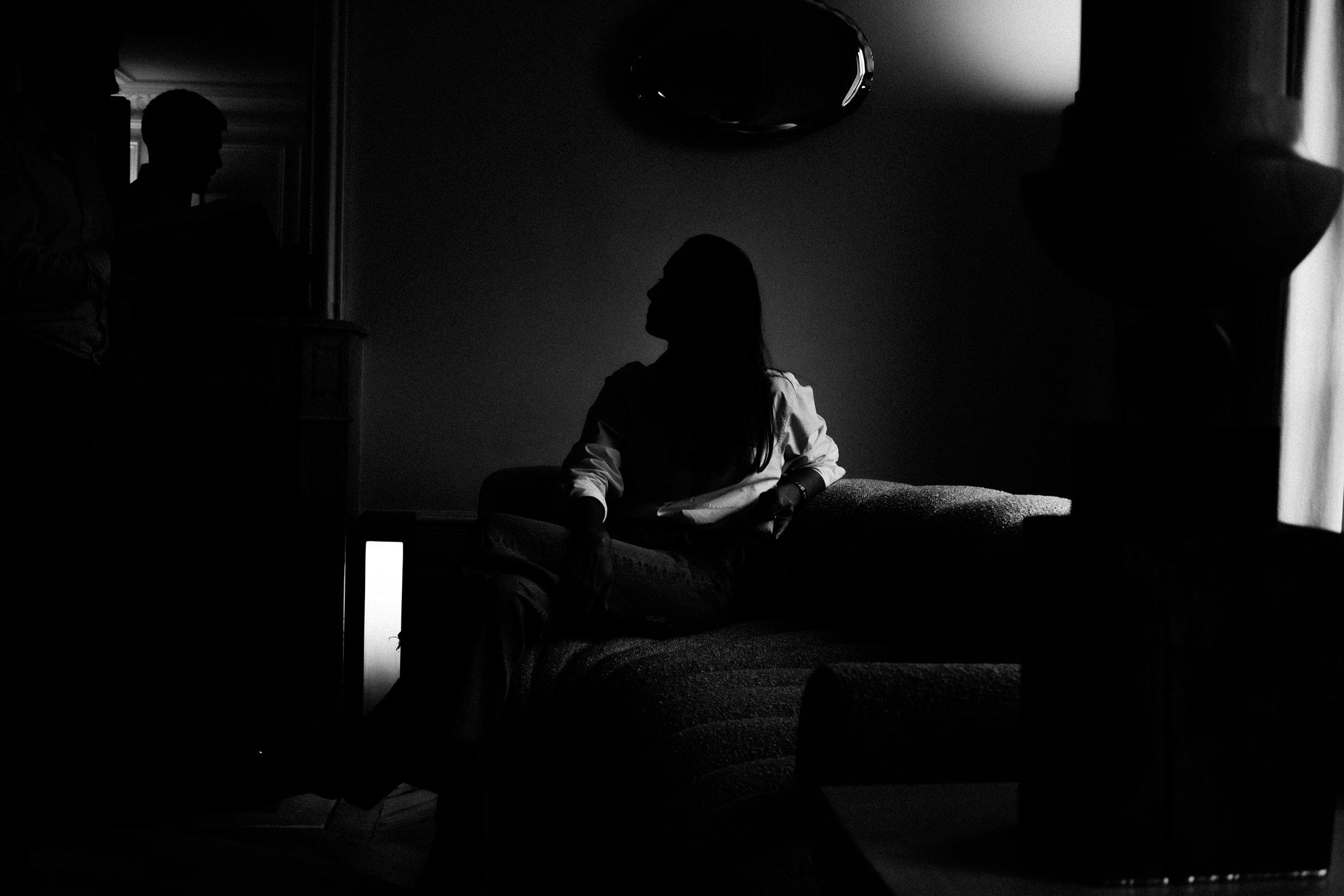 Kristen_ I've been following your platform for a few years, particularly what you're doing now, offering a varied selection of furniture and objects for sale. Can you explain in a few words what your platform is and what you do at Savannah Bay Gallery?

Je suis votre plateforme depuis quelques années maintenant, notamment ce que vous faites maintenant, en proposant une sélection variée de meubles et d'objets à la vente. Pouvez-vous expliquer en quelques mots ce qu'est votre plateforme et ce que vous faites chez Savannah Bay Gallery ?


Lena_ We don't define ourselves as a platform per se but rather as a gallery. That's why we included it in our name, Savannah Bay Gallery. We support our artists and curate our selection just like a gallery does. We really have the same business model as an art gallery... We don't operate as a standalone platform where artists upload their content and promote themselves. 
To sum up, what sets us apart from a traditional gallery is undoubtedly the fact that all our services are digitised, including our customer service. Our catalogue is available online on our website and is updated every week with new items. All pieces can even be ordered directly from our website, which displays public prices with VAT. Of course, we often get to meet our customers 'IRL' during appointments, showroom visits, events, etc., but we're also able to provide them with precise, personalised support remotely, using tools that are specific to a digital business. 
To put things into context, Savannah Bay Gallery was created in 2017, when we were still in our twenties. So, the digital side seemed obvious to us. If we wanted to 'revisit' the gallery model, it's not because we're iconoclasts and we wanted to break the rules, but mainly because we wanted to create something that would be of great service to our clients to make their work and business much easier. 


Nous ne nous définissons pas comme une plateforme à proprement parler mais plutôt comme une galerie. C'est pourquoi nous l'avons inclus dans notre nom Savannah Bay Gallery. Nous soutenons nos artistes et curatons notre sélection, comme le fait une galerie. Nous avons d'ailleurs le même modèle économique qu'une galerie d'art…Nous n'opérons pas comme une plateforme en service autonome où les artistes vont uploader leurs contenus et se débrouillent tout seuls pour faire leur promotion. 
Pour résumer, ce qui nous différencie d'une galerie traditionnelle c'est sans doute le fait que tous nos services sont digitalisés y compris notre service client. Notre catalogue est accessible en ligne, sur notre site internet, et il est mis à jour toutes les semaines avec des nouveautés. Les pièces peuvent même être commandées directement sur notre site qui affiche les prix publics TTC. Bien sûr, on rencontre souvent nos clients ''IRL'' en RDV, lors des visites de showroom, d'événements etc mais on est également capables de leur apporter un accompagnement précis et personnalisé à distance avec des outils propres à un business digital. 
Pour remettre dans le contexte, Savannah Bay Gallery a été créée en 2017 alors qu'on avait moins de trente ans. Du coup le côté digital nous semblait évident. Si on a voulu "revisiter" le modèle de galerie ce n'est pas parce qu'on est iconoclastes et qu'on avait envie de casser les règles, mais surtout parce qu'on voulait créer quelque chose qui soit au service de nos clients pour leur faciliter le travail et le business d'une manière générale. 


Have you worked for galleries before this? How did those experiences influence you?

Aviez-vous travaillé pour des galeries avant cela ? Si oui de quelle façon cette expérience vous a-t-elle influencée?

L_ I studied Law and the Art Market. Initially, I wanted to be an auctioneer. I did some work placements in auction houses because I was very drawn to the dynamic side of that business. But I also wanted to know more about the world of galleries, which led me to work for contemporary art galleries.
I was working for a gallery specialising in 20th-century and contemporary furniture, which brought me back to the B2B aspect of auctioneering because we were talking to art dealers but also architects and interior designers, so it was much more lively. But I also saw that the way of working was still extremely old-fashioned. 
L_ J'ai fait des études de Droit et de Marché de l'Art. Au départ, je voulais être commissaire-priseur. J'ai fait des stages dans des maisons de vente aux enchères car j'étais très attirée par le côté dynamique de ce milieu. Mais je voulais également découvrir le monde des galeries alors j'ai aussi travaillé pour des galeries d'art contemporain. 
C'est en travaillant pour une galerie spécialisée dans le mobilier XXème siècle et contemporain que j'ai retrouvé un peu l'aspect B2B qu'il y avait justement avec les ventes aux enchères, parce qu'on s'adresse à des marchands mais on retrouvait aussi une clientèle d'architectes, de décorateurs, c'était beaucoup plus vivant. Mais j'ai également vu que la façon de travailler était encore extrêmement archaïque. 


Circling back to your background, how did you end up in this business? And you're also in a relationship... I think people would also be interested to know about your work dynamic. It can be very difficult when two creative people work together, whereas having very complementary roles can make the workflow all that much smoother. What's your experience of this?

Pour revenir sur votre parcours, comment avez-vous atterri dans ce milieu ? Et vous êtes également en couple... Je pense que les gens seraient également intéressés de connaître votre dynamique de travail. Cela peut être très difficile lorsque deux personnes créatives travaillent ensemble, alors que le fait d'avoir des rôles très complémentaires peut rendre le travail beaucoup plus fluide. Quelle est votre expérience à ce sujet ?

L_ Indeed, in our case, our jobs don't overlap here. On top of the experience I mentioned earlier, I was in charge of business development for two start-ups that were positioned on the online art market but on the fine art and secondary market side of things. And now, I'm in charge of sales at Savannah Bay Gallery.
Q_ Yes, while I'm head of creative at Savannah Bay Gallery, which means I'm in charge of all our visual media and content, including our website and all our communications tools. I also create a lot of 3D renders for our catalogue and to help our customers make their choices.
Regarding my background, I studied photography and worked as a freelancer for a few years with a studio before refocusing on graphic design, post-production and CGI. Thanks to these skills, I was able to start developing Savannah Bay Gallery when it was still just a project. I took care of the brand identity and platform as well as the development of the website.
L_ Because it's one thing to have ideas, but you also have to know how to put them into practice. That's how the collaboration started.
Q_ And today, we each have a well-defined role. But we're both partners, and we take strategic decisions together, even though Léna is the CEO, which means she has the final say.
L_ Effectivement, nous ne sommes pas du tout sur les mêmes domaines. En plus de mon parcours évoqué tout à l'heure, je me suis occupée du développement commercial dans deux start-ups qui s'étaient positionnées sur le marché de l'art en ligne, mais côté fine art et second marché. Et aujourd'hui, je suis responsable de la partie commerciale chez Savannah Bay Gallery.
Q_ Pour ma part, je m'occupe de la direction créative de Savannah Bay Gallery ce qui veut dire que je suis en charge de tous nos supports et contenus visuels y compris notre site internet et tous nos outils de communications. Je crée aussi beaucoup de rendus 3D pour les besoins de notre catalogue mais aussi pour accompagner nos clients dans leurs choix.
En ce qui concerne mon parcours: j'ai fait des études de photographie, j'ai travaillé quelques années en studio et en freelance avant de recentrer mon activité autour du graphisme, de la post-production et de la CGI. C'est grâce à ces compétences que j'ai pu commencer à développer Savannah Bay Gallery alors que ce n'était encore qu'un projet. Je me suis occupé de l'identité, de la plateforme marque, de la création et du développement du site internet.
L_ Parce que c'est bien d'avoir des idées, mais il faut aussi savoir les mettre en forme. C'est un peu de ça qu'est née la collaboration. 
Q_ Et aujourd'hui, on a chacun un rôle bien défini. Mais on est tous les deux associés, et on prend les décisions stratégiques à deux, même si Léna est la présidente, ce qui signifie qu'elle aura le dernier mot.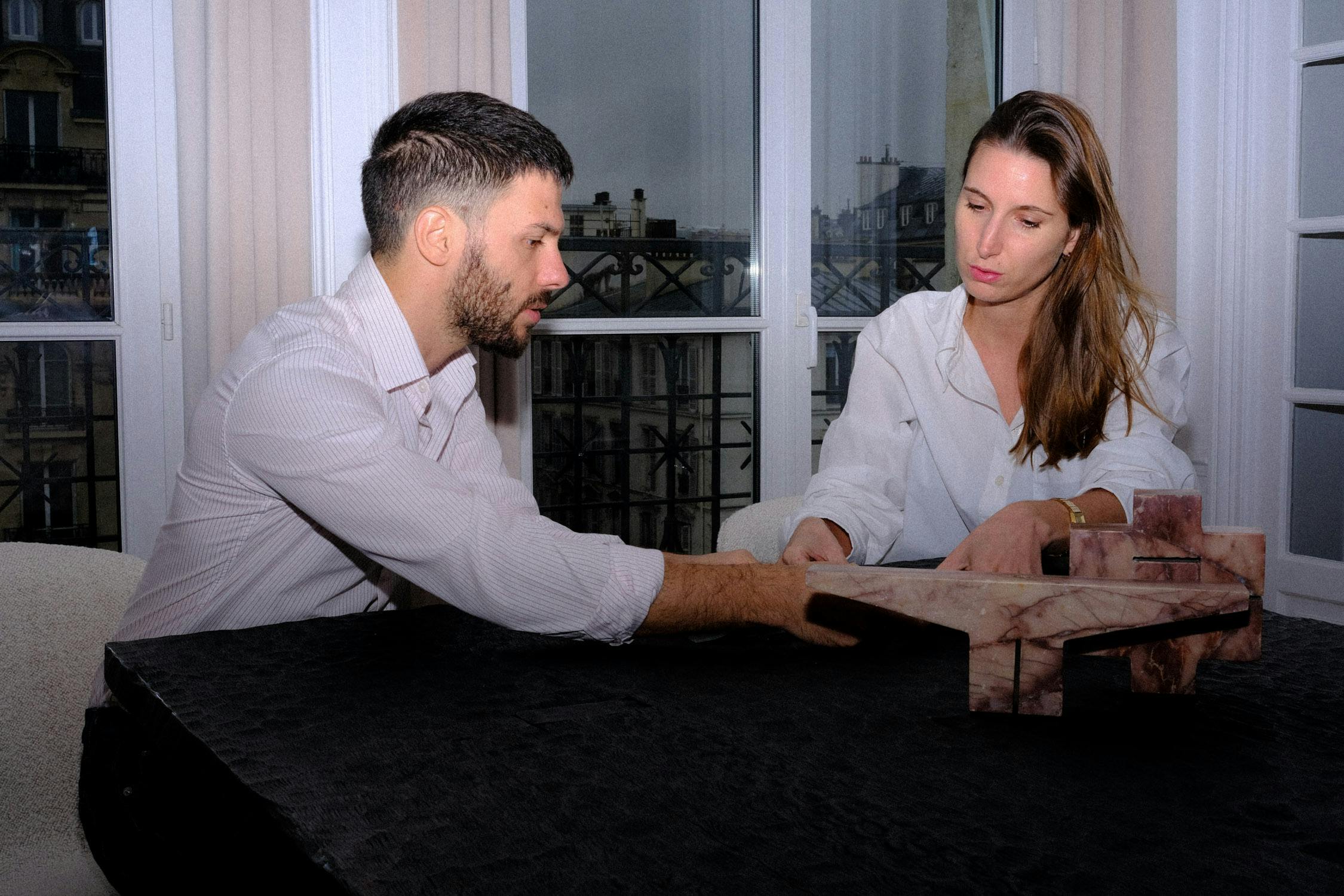 You want to display all your prices on the website, which is something that other galleries rarely do. Do you think we need more transparency in this business?

Vous avez cette volonté d'afficher tous vos prix sur le site web, ce qui est quelque chose que les autres galeries ne font presque jamais. Est-ce que vous pensez qu'on a besoin de plus de transparence dans ce milieu ?

Quentin_ We initially decided to do this in response to the opacity you mentioned. Our margins are fair, both to the artist and to our work. 
L_ Yes, prices are discussed in complete transparency with the artists we represent. We don't just put up any price we want but rather agree on our mutual remuneration. Everyone knows who earns what. And we have fairly similar deals with all our artists.
Furthermore, it was a no-brainer for us to display the prices because, once again, we created Savannah Bay to make things easier. And our customers appreciate that, whether they're architects or interior designers, when they're working on a project, they need to know how much a piece costs in order to respect the budget allocated by the customer. Otherwise, an architect would waste his time sending emails to get quotes from every distributor.
Q_ Nous l'avons décidé initialement en réponse à cette opacité dont tu parles. Notamment pour montrer qu'on n'a rien à cacher, nos marges sont justes que ce soit envers l'artiste ou notre travail. 
L_ Oui, les prix sont discutés en toute transparence avec les artistes qu'on représente. On ne fait pas ce qu'on veut et on se met d'accord sur nos rémunérations mutuelles. Tout le monde est au courant de qui gagne quoi. Et nous avons des accords assez homogènes entre tous nos artistes.
Et surtout pour nous, c'était évident de montrer les prix parce qu'encore une fois, on a créé Savannah Bay dans une démarche de facilitation. Et nos clients apprécient, que ce soit les architectes, les décorateurs, quand ils travaillent sur un projet, il ont besoin de savoir combien coûte une pièce afin de rentrer dans les enveloppes budgétaires allouées par les clients. Sinon un architecte va passer son temps à envoyer des mails à tous les distributeurs. 


I find it very interesting the way you're changing the traditional gallery model by offering so many services: not only are you selling furniture directly to architects and designers through your website, but you're also fostering relationships with these professionals who contact you directly when they're looking for specific furniture for their projects. Can you explain how you do this and what services you offer?

Je trouve très intéressante la façon dont vous changez le modèle de la galerie traditionnelle en offrant ainsi un grand nombre de services : non seulement vous vendez des meubles directement aux architectes et designers par l'intermédiaire de votre site web, mais vous favorisez également les relations avec ces professionnels qui vous contactent directement lorsqu'ils sont à la recherche de meubles spécifiques pour leurs projets. Pouvez-vous nous expliquer comment vous procédez et quels sont les services que vous proposez ?

L_ Yes, we currently have a catalogue of close to eight hundred pieces supplied by twenty-five to thirty artists/designers/partners, who are always developing new collections and have very extensive catalogues themselves. But we still need to make a selection, which means that we don't show everything on our website or in our catalogue. Because we know our products and our artists so well, we know that there are other things 'on standby', so that's why we can always come up with new ideas that aren't all available to see on our website. But more importantly, I'd say that 80% of the pieces in our collection can be made to measure, which means that it's quite rare for the customer to be stuck because we can always suggest another type of finish or other specs, for example... We can even really start from scratch, working with certain artists by helping design a project and creating something specifically for the customer.
In effect, we sell very few standard products. For example, this table we're working on has never been sold twice with the same specs. The finish, textures and sizes are never the same.
Q_ Our signature is custom-made furniture.
L_ We also have quite a large collection of sofas, for example. We can make most models to measure, but really to the centimetre. We can adapt things in a very detailed way.

C'est vrai qu'aujourd'hui, on a un catalogue de près de huit cents pièces avec entre vingt-cinq et trente artistes/designers/partenaires, qui développent toujours des nouvelles collections et ont eux-même des catalogues très larges. Mais on fait quand même une sélection, c'est-à-dire qu'on ne montre pas tout sur notre site internet ou dans notre catalogue. Comme on connaît bien nos produits et nos artistes, on sait qu'il y a d'autres choses "en réserve", donc c'est pour ça qu'on peut toujours avoir des nouvelles idées qui ne sont pas toutes visibles sur notre site Internet. Mais surtout, je dirais que 80% des pièces de notre collection peuvent être fabriquées sur mesure, ce qui veut dire que c'est assez rare que le client se retrouve bloqué, parce qu'on peut toujours lui proposer une autre finition ou d'autres dimensions par exemple…On peut même vraiment partir de zéro, travailler avec certains artistes en dessinant le projet et en élaborant spécifiquement pour le client.
C'est vrai qu'on vend finalement assez peu de choses standard. Par exemple, cette table sur laquelle on est, on ne l'a jamais vendue deux fois pareil. Les finitions, les textures, les tailles demandées ne sont jamais les mêmes.
Q_ Notre signature est de faire du sur mesure. 
L_ On a aussi une collection assez importante de canapés par exemple. On peut faire la plupart des modèles sur mesure, mais vraiment au centimètre près. On peut adapter les choses de manière très poussée.


I hadn't thought about what you might have other than online. So it's interesting to see that you can work with clients to do bespoke pieces and that you have a good knowledge of all the artists' capabilities. I hadn't thought about what you might have other than online. So it's interesting to see that you can work with clients to do bespoke pieces and that you have a good knowledge of all the artists' capabilities.

Je m'étais arrêtée à ce que vous aviez en ligne. Donc c'est intéressant de voir que vous pouvez travailler avec des clients pour faire des choses sur mesure et que vous avez une bonne connaissance de toutes les capacités des artistes. 

Q_ Lena and our colleagues in the sales team have a perfect knowledge of each piece, which is important for some customers who may have a very good knowledge of the artist themselves and come with very specific questions about a piece they know almost all the characteristics of.
L_ Our clientele is made up mainly of professionals who are demanding and have a thorough technical knowledge of the pieces. They expect detailed answers to understand how the pieces are made and the production capacity of the artists so that they know what they can do next.
Q_ Architects, in particular, love this service.

Q_ Lena et les autres personnes qui composent notre équipe commerciale ont une connaissance parfaite de chaque pièce, ce qui est important pour certains clients qui peuvent avoir eux-mêmes une très bonne connaissance de l'artiste et arrivent avec des questions précises sur une pièce dont ils connaissent presque toutes les caractéristiques.  
L_ Nous avons une clientèle composée majoritairement de professionnels qui sont exigeants et ont une connaissance technique poussée des pièces. Ils attendent des réponses détaillées, afin de comprendre comment les pièces sont fabriquées, les capacités des artistes en termes de production, pour savoir ce qu'ils peuvent faire ensuite. 
Q_ Les architectes adorent ce service.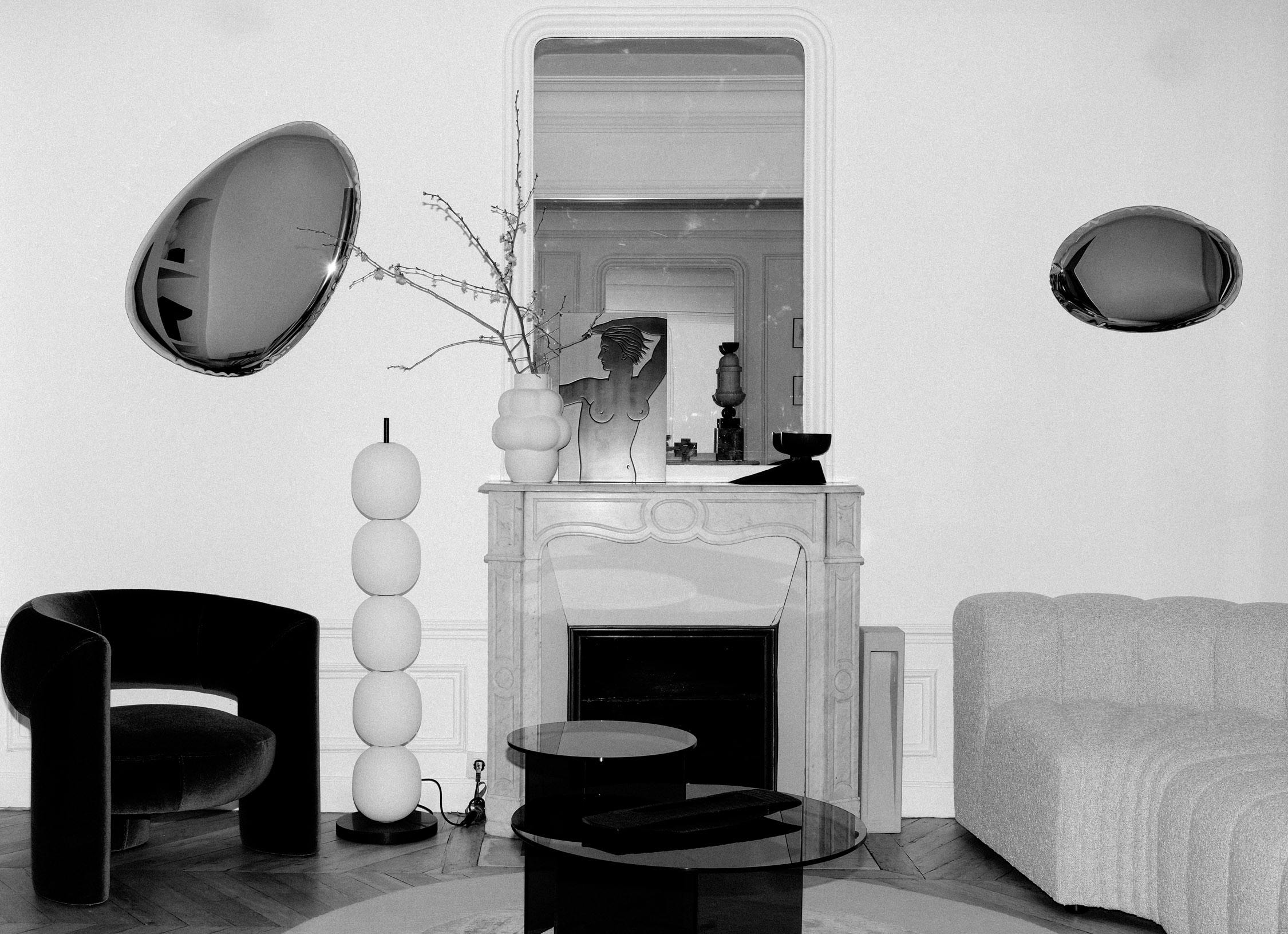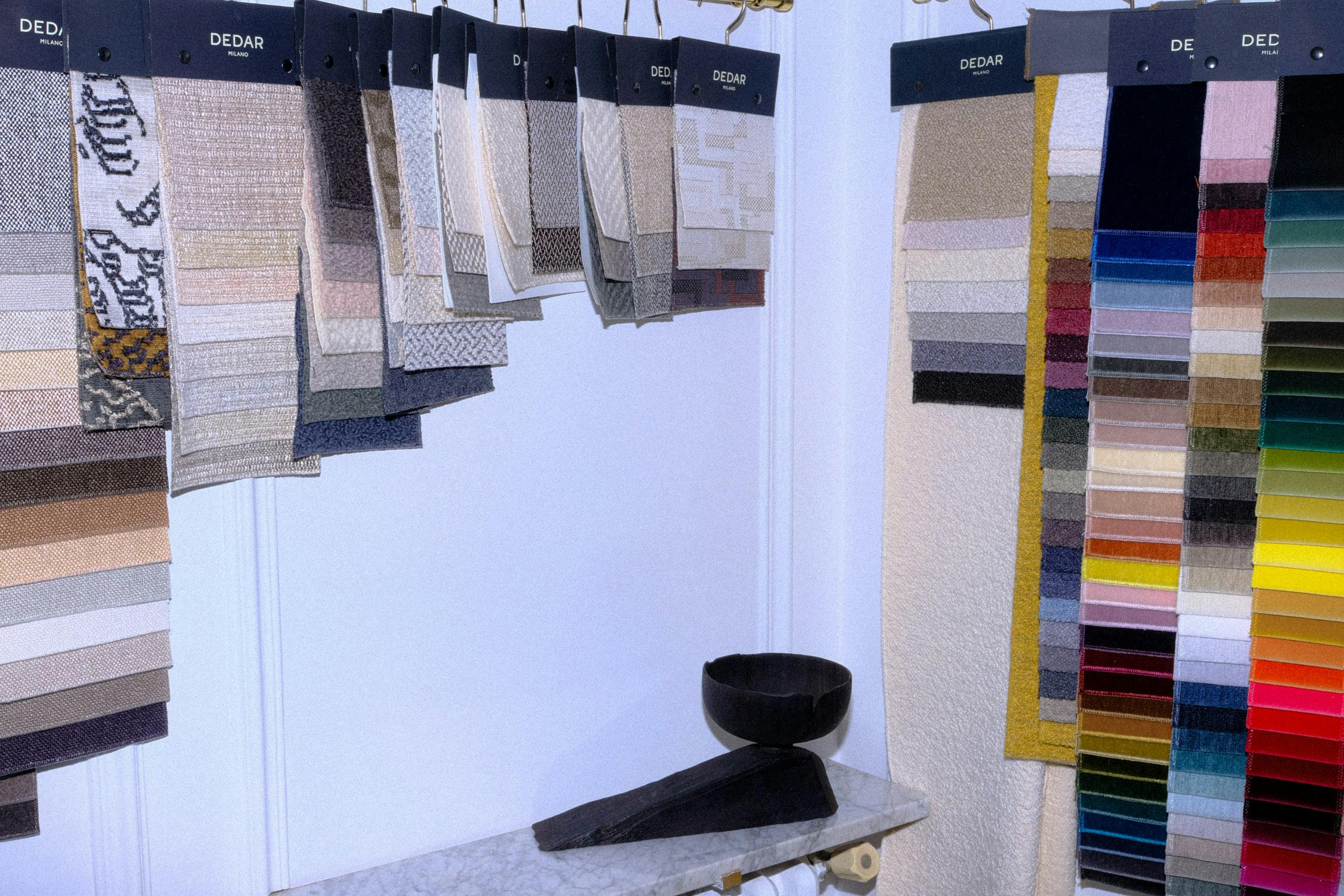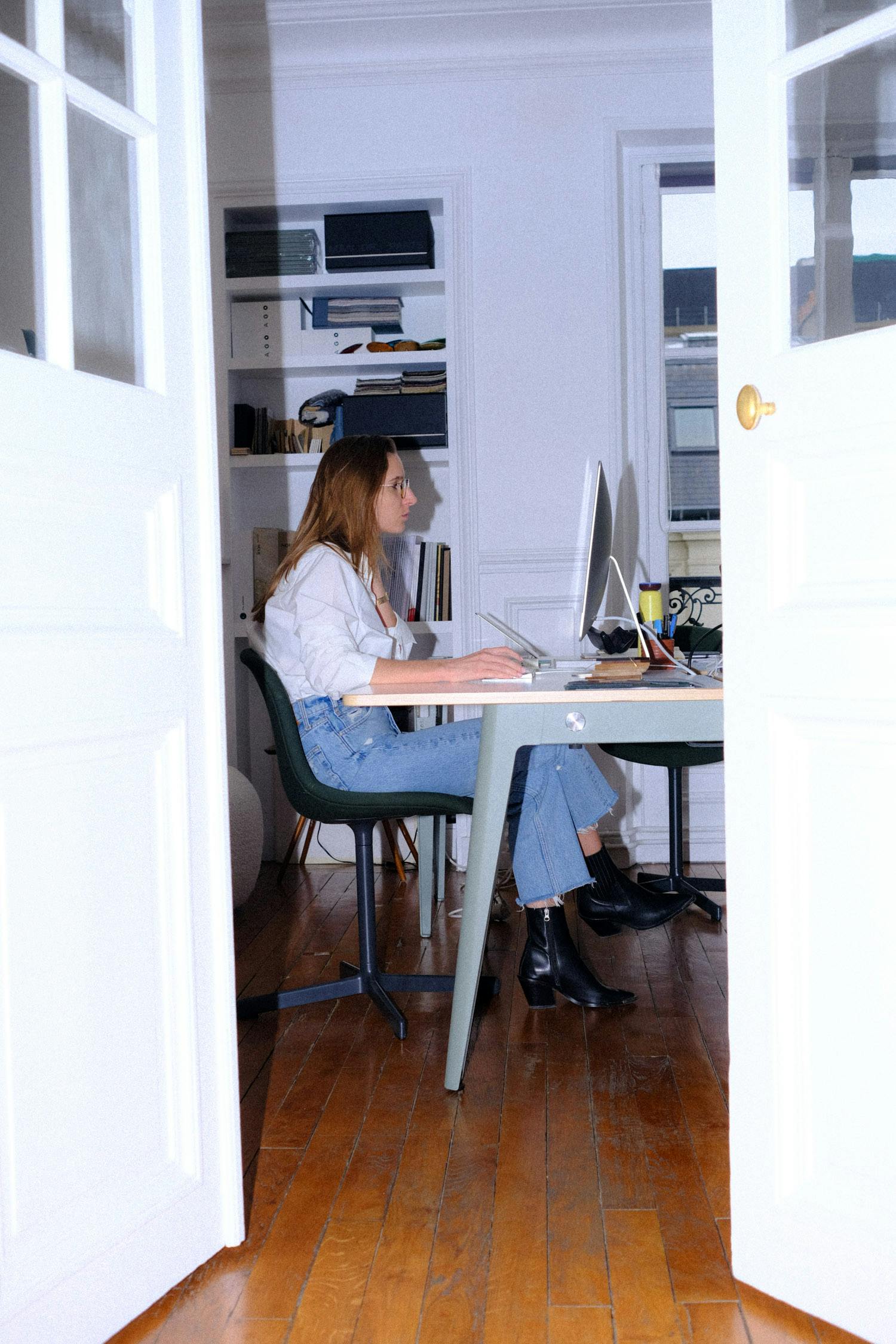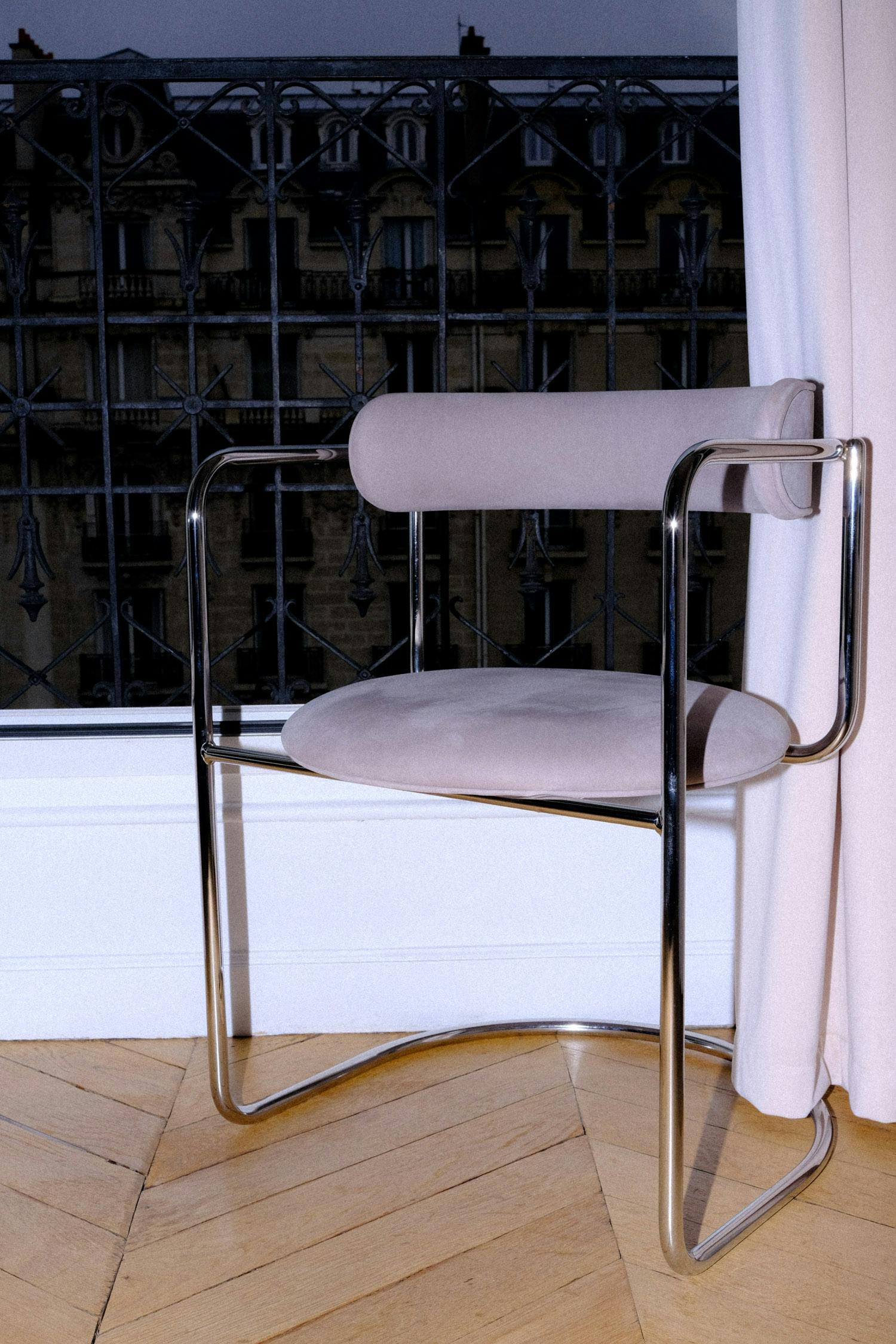 I imagine you get to meet some very interesting artists, but for various reasons, whether it's their pace of work, the fact that they work alone or do a lot of exhibitions, they can't keep up with the production side of things...is it important to find designers who are flexible or can produce a certain number of pieces, to enable you to work with clients like hotels for example...how does that work? 

Dans votre travail, vous pouvez trouver des artistes très intéressants, mais qui pour plusieurs raisons, que ce soit leur rythme de travail, le fait qu'ils travaillent seuls ou font beaucoup d'expositions, ne peuvent pas suivre au niveau de la production…est-ce important de trouver des designers qui sont flexibles ou ont la capacité de produire un certain nombre de pièces, pour vous permettre de travailler avec des clients comme des hôtels par exemple…comment ça marche? 

L_ We have about thirty partners, including independent artists who work independently and, therefore, might have longer production lead times or are more technically limited. But we also have partners such as established brands with more developed structures, including teams of several people, larger production sites and so on, in contrast to an artist or group of designers working autonomously in a workshop.
It's important to us that we work with different types of partners to diversify the range of products in our catalogue because we feel that plurality is also a strength. If we only represented well-established brands, we couldn't do so much bespoke work to design something from scratch. Our aim is to offer our customers a choice.
Q_ But regarding the independent artists we work with, we still had to make sure that there was flawless quality control. Because we'd risk a lot selling approximate, unfinished pieces, they need to be able to provide impeccable quality while meeting a certain number of orders.
For example, Camilo from CarmWorks, a Colombian artist, who made the console in our showroom entrance. Even though he works on his own, he has his workshop and is capable of supplying three or four tables on a project, all with the same rigour and quality control.

L_ On compte une trentaine de partenaires dont notamment des artistes indépendants, qui travaillent seuls et ont forcément des délais de production plus longs, ou sont plus limités sur le plan technique. Mais on a aussi des partenaires qui sont des marques établies avec des structures plus développées, comprenant des équipes de plusieurs personnes, des sites de productions plus importants, etc. À la différence d'un artiste ou d'un collectif de créateurs qui travaillerait de façon autonome dans un atelier. 
Nous tenons à avoir différentes typologies de partenaires afin de diversifier les propositions dans notre catalogue Car c'est aussi une force, ça crée de la pluralité: Si on ne représentait que des marques super bien implantées, on n'aurait pas la possibilité de faire autant de sur-mesure, de dessiner quelque chose de zéro. Notre but, c'est d'offrir du choix à nos clients.
Q_ Mais pour les artistes indépendants avec lesquels on a souhaité travailler, il fallait qu'on soit sûr c'est-à-dire qu'il puisse y avoir un contrôle qualité sans faille. Parce qu'on risquerait gros à vendre des pièces approximatives, non finies. Il faut qu'ils puissent fournir un niveau de qualité impeccable tout en faisant face à un certain nombre de commandes.
Je pense à Camilo de CarmWorks un artiste colombien qui a fait la console dans l'entrée de notre showroom. Même s'il est tout seul, il travaille avec son propre atelier et est capable de fournir trois, quatre tables sur un projet avec la même rigueur, le même contrôle qualité.


You represent designers from all over the world...how do you check the quality of designers in Australia or South Africa, for example? Do you visit their studios or see their work at fairs? You represent designers from all over the world...how do you check the quality of designers in Australia or South Africa, for example? Do you visit their studios or see their work at fairs? 

Vous représentez des créateurs du monde entier…comment vérifiez-vous la qualité des créateurs qui se trouvent en Australie ou en Afrique du Sud par exemple ? Vous rendez-vous dans leur studio ou voyez-vous leur travail lors d'une foire ?

L_ We meet our artists or visit their studios whenever possible. This allows us to understand how they work and to get a better sense of the quality of their work. When that's not possible - in the case of some of our partner artists in Colombia or Australia - we may decide to buy one of their pieces directly to get a better idea. It's also a way of encouraging our artists while getting to appreciate the quality of the pieces.

L_ On rencontre nos artistes ou on visite leurs ateliers quand cela est possible. Cela nous permet de comprendre leur façon de travailler et d'apprécier la qualité de leurs créations en personne. Quand ce n'est pas possible, je pense notamment à certains de nos artistes partenaires qui sont en Colombie ou en Australie, on peut décider d'acheter directement une de leurs pièces pour nous faire une meilleure idée. C'est aussi une manière d'encourager nos artistes tout en appréciant la qualité des pièces.


How do you approach curation with eight hundred pieces in your online catalogue? How do you come to work with a designer?  Where do you find them?

Avec les huit cents pièces de votre catalogue en ligne, comment approchez-vous la curation ? Comment en venez-vous à travailler avec un designer ?  Où les trouvez-vous ? 
L_ At events, shows and fairs, like in Milan, at the 3 Days Of Design in Copenhagen. 
Q_ In Warsaw, in Brussels.
L_ It could also be at Maison & Objet. And the fringe events of the Paris Design Week. We go to both the official fairs and the alternative events running alongside these big shows. We really try to go everywhere.
And we also work on recommendations. For example, the Colombian artist Camilo introduced us to his girlfriend, who is a sculptor and whom we now represent. We also work with a few agents who often work with new brands and suggest things to us.

L_ Sur des événements, des salons, des foires, comme à Milan, au 3 Days Of Design, à Copenhague. 
Q_ à Varsovie, à Bruxelles.
L_ Ça peut être aussi à Maison & Objet. Et le Off de Paris Design Week. On va autant sur les salons officiels que le Off de ces grands événements. On essaie vraiment d'aller un petit peu partout. 
Après, on marche aussi sur recommandations. Par exemple, l'artiste colombien Camilo nous a présenté sa petite amie qui est sculptrice et qu'on représente désormais. On travaille aussi avec quelques agents qui collaborent souvent avec de nouvelles marques et nous proposent des choses.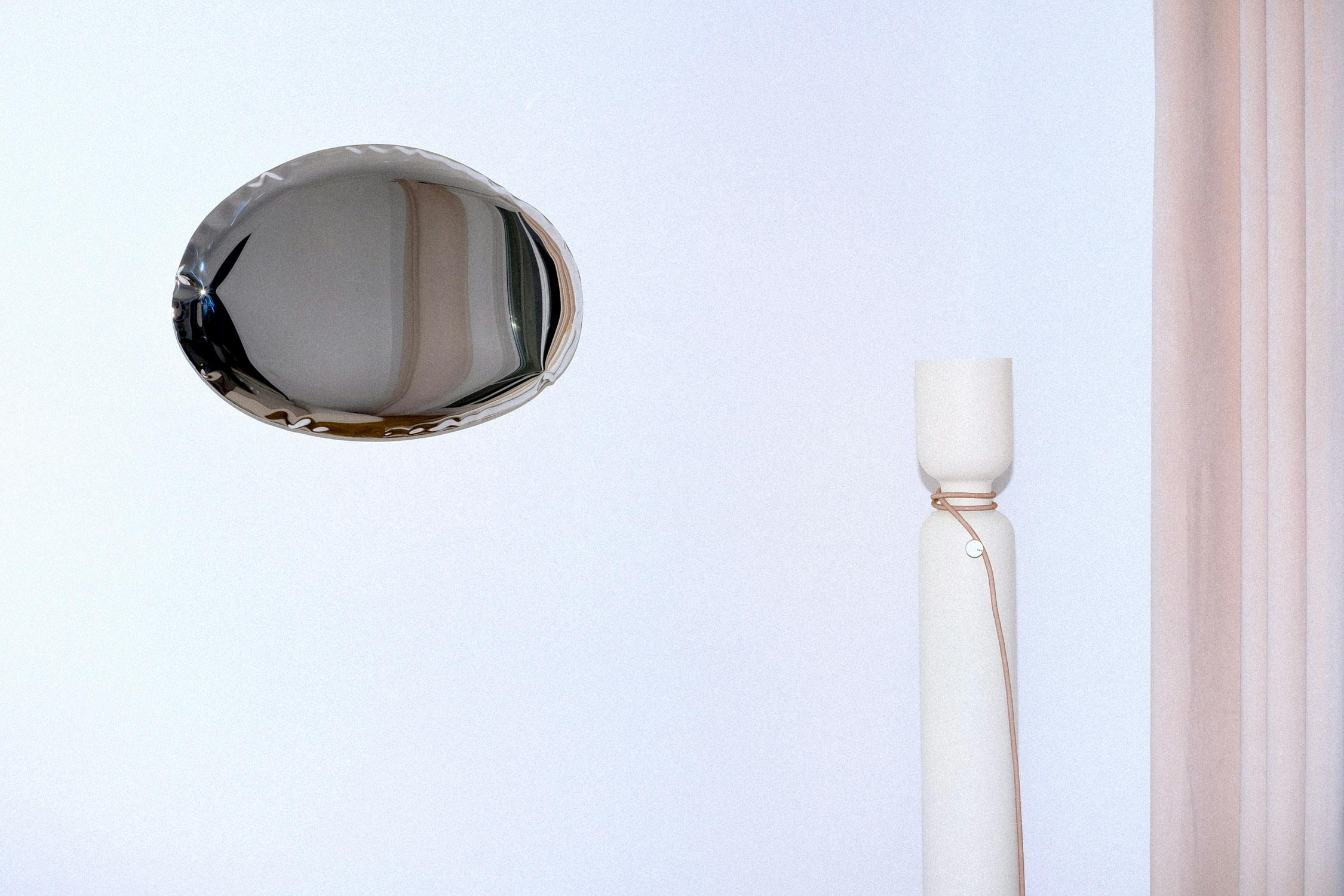 Do you like it when people contact you directly? Because a lot of galleries have more of a philosophy of "We'll find you."

Donc vous aimez bien quand les gens vous contactent directement ? Parce que beaucoup de galeries disent "c'est nous qui vont trouveront"

Q_ We like getting requests, but they have to come from people who've taken the time to look at what we do before contacting us. 
L_We're lucky because the artists who have approached us are good, but sometimes agents will contact us without having taken the time to look at what we do and pitch things that aren't relevant to us.

Q_ On aime bien recevoir des demandes, mais il faut que ça vienne de personnes qui ont bien regardé ce qu'on fait avant de nous contacter.
L_ On a de la chance parce que les artistes qui nous ont approchés sont bons, mais il est vrai que certains agents nous contactent parfois sans avoir pris le temps de regarder ce qu'on fait et proposent des choses hors-sujet.


Do you find artists on Instagram?

Trouvez-vous des artistes sur Instagram ?

L_ We often get in touch via Instagram. For example, when we go to a show and see an artist we like, we have a look at what they post on Instagram.
Q_ But it's not so straightforward because artists with a high profile are already well represented and our competition would be on the lookout, picking up pieces that are a bit similar to ours. It's happened before. That's why we try to look for things that we're not going to see that often elsewhere, we're not chasing the hot artist of the moment.
L_ We're somewhere in between, really. We can't say that we represent newcomers, artists who have just come out of school, for example, because, as we were saying earlier, we're looking for a certain experience to reassure us. But at the same time, we're not looking for superstars because we want to be able to offer things that aren't available elsewhere, or at least not everywhere.
L_On est souvent en relation via Instagram, par exemple, quand on visite un salon où on voit un artiste qui nous plaît, évidemment, on va aller voir sur Instagram, ça peut aider dans la communication. 
Q_ Mais c'est difficile parce que ceux qui ont une belle visibilité sont déjà bien représentés et on a pas mal de concurrents qui tournent autour, prennent des pièces un peu similaires à ce qu'on fait. Ça nous est déjà arrivé. C'est pour ça qu'on essaie de chercher des choses qu'on ne va pas trop voir ailleurs, on n'est pas dans la recherche du buzz du moment. 
L_ En fait, on est dans un entre-deux. On ne peut pas non plus dire qu'on représente des artistes complètement émergents, qui sortent de l'école par exemple, parce que comme on le disait tout à l'heure, on recherche une certaine expérience pour être rassurés. Mais en même temps, on ne recherche pas des superstars parce qu'on veut proposer des choses à nos clients qui ne se retrouvent pas ailleurs, ou en tout cas pas trop. 


During Covid, there was a lot of talk about causes like Black Lives Matter, and these political conversations also caught on in the art world, particularly with regards to under-representation in art and the American and European dominance in terms of tastes, the people and visions represented. It was a pivotal moment for galleries, which began to look elsewhere for talent. Is this part of your founding philosophy, something you've always done, or is it something that happened during Covid?

Pendant  le Covid, on a beaucoup parlé de causes comme Black Lives Matter et ces conversations politiques ont aussi eu lieu dans le monde de l'art, notamment concernant la sous-représentation dans l'art et la domination américaine et européenne en matière de goûts, des personnes représentées et de visions. C'était un moment charnière pour les galeries, qui ont commencé à chercher des talents ailleurs. Cela fait-il partie de votre philosophie fondatrice, de ce que vous avez toujours fait ou est-ce quelque chose qui s'est produit pendant le Covid ?

L_ It was quite natural for us. I think our first three partners were Chinese, Polish and German. Right from the start, we worked with artists and clients from all over the world. We like the idea of working with people from almost every continent. If we had confined ourselves to French or European artists, our collection might have been a little too uniform. We find it more interesting to have a collection that reflects different cultural inspirations. There's wealth in diversity.
But we're also on the lookout for things that aren't too distinctive or with an identity that would confine the design because, once again, we have pragmatic commercial considerations to take into account. We're a gallery, we sell to clients, we're not a blog, we're not a mood board. So, we need the pieces we select to have a commercial resonance, and we need to be able to project ourselves into our client's shoes and imagine the pieces in their projects.
L_ Ça s'est fait naturellement. Je crois que nos trois premiers partenaires étaient Chinois, Polonais et Allemands. Dès le début, nous avons travaillé avec des artistes et des clients qui venaient de partout dans le monde. Aujourd'hui, on aime bien cette idée de travailler avec des gens sur quasiment tous les continents.
Si on s'était cantonné à des artistes français ou européens, notre collection serait peut-être un peu trop uniforme. On trouve plus intéressant d'avoir une collection qui serait le reflet de différentes inspirations culturelles. C'est ce qui crée de la richesse à nos yeux. 
Mais on cherche aussi des choses qui ne sont pas non plus trop marquées, ou avec une identité qui enfermerait le design, parce qu'encore une fois, on a des considérations pragmatiques sur le plan commercial. On est une galerie, on vend à des clients, on n'est pas un blog, on n'est pas un mood board. Donc on a besoin que les pièces qu'on sélectionne puissent avoir une résonance commerciale, qu'on arrive à se projeter à la place de nos clients et imaginer les pièces dans leurs projects.
You also work with a lot of great names like Louis Vuitton, Cartier...? 

Vous travaillez aussi avec beaucoup de grands noms comme Louis Vuitton, Cartier…? 

L_ Yes, we've collaborated with some prestigious brands that everyone knows, like Louis Vuitton, Cartier and Tiffany, for example. We're really happy to have worked on their stores. They're great projects and it's flattering. But we also have clients who are less well known to a wider audience and who are rock stars for us in our industry. We're very proud, for example, to work with architects like Jean-Louis Deniot in Paris, Peter Mikic in London, Brigette Romanek in Los Angeles, and many others...

L_ Oui, il y a quelques noms prestigieux que tout le monde connaît comme Louis Vuitton, Cartier, Tiffany par exemple. On est super contents d'avoir travaillé pour certaines de leurs boutiques. Ce sont de beaux projets et c'est flatteur. Mais on a aussi des clients qui sont moins connus du grand public ou qui sont des rockstars pour nous, dans notre milieu. On est très fiers par exemple de travailler avec des architectes comme Jean-Louis Deniot à Paris, Peter Mikic à Londres, Brigette Romanek à Los Angeles, et d'autres encore...
L_ We do look to provide a very personalised service and really support our clients. We don't just provide them with a catalogue. Even if our customers come to us because they've seen something they're interested in, we'll flesh out our offer by suggesting pieces based on what they liked or giving them indications of possible finishes. Once they've made their initial request, there's a bit of back and forth, and we can do 3D renders for them based on the measurements they want for a room, a sofa, etc., before coming up with an offer.

L_ C'est vrai qu'on essaye d'apporter un service très personnalisé et de vraiment accompagner nos clients. On ne leur met pas juste un catalogue à disposition. Même si nos clients nous sollicitent parce qu'ils ont vu quelque chose qui les intéressait, on va étoffer ensuite la proposition avec eux en proposant des pièces suivant ce qu'ils ont aimé ou leur donner des indications sur les finitions possibles. Après leur première demande, il y a effectivement quelques allers-retours, on peut leur faire des rendus 3D, en se basant sur les mesures souhaitées pour une pièce, un canapé… avant d'aboutir à l'offre.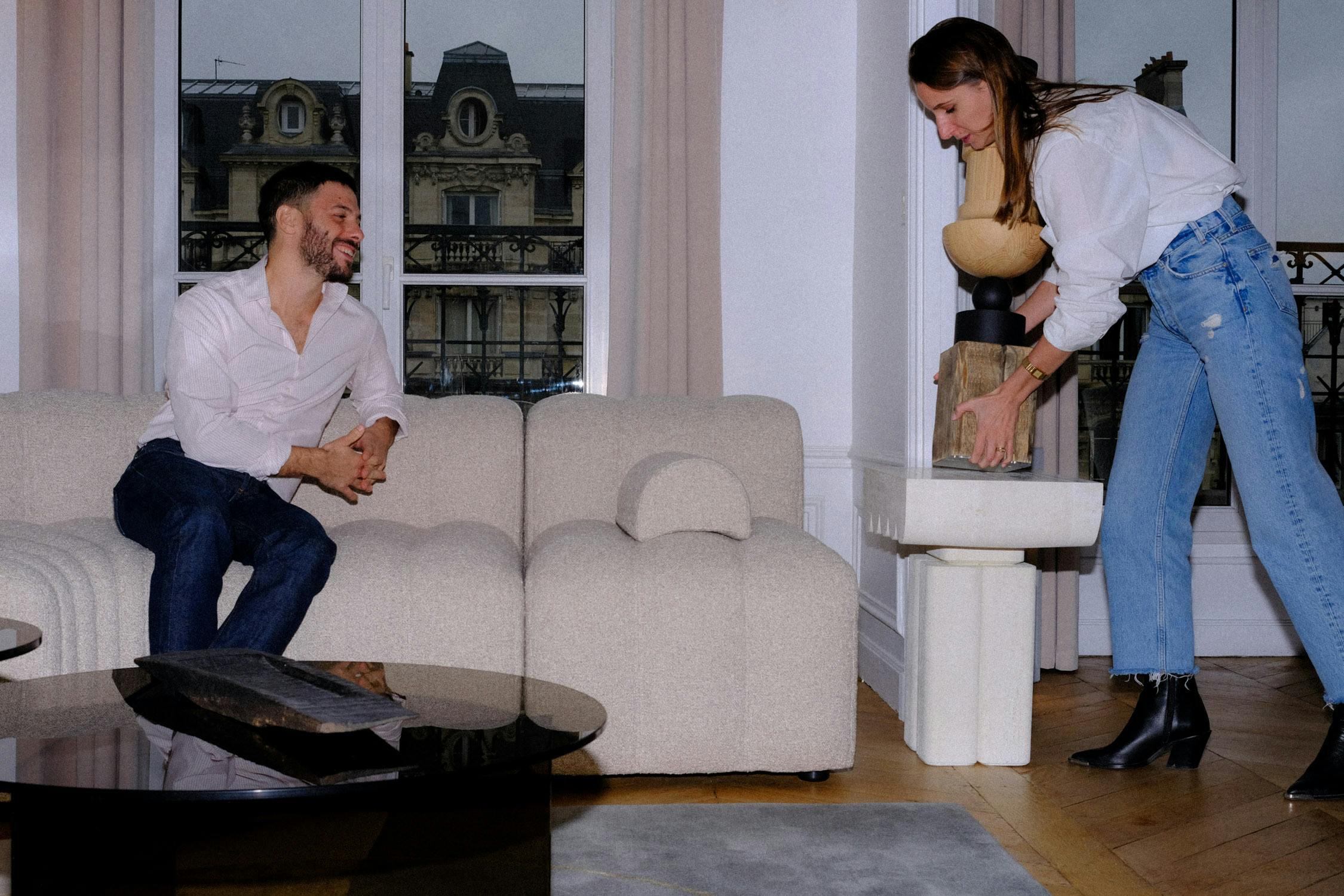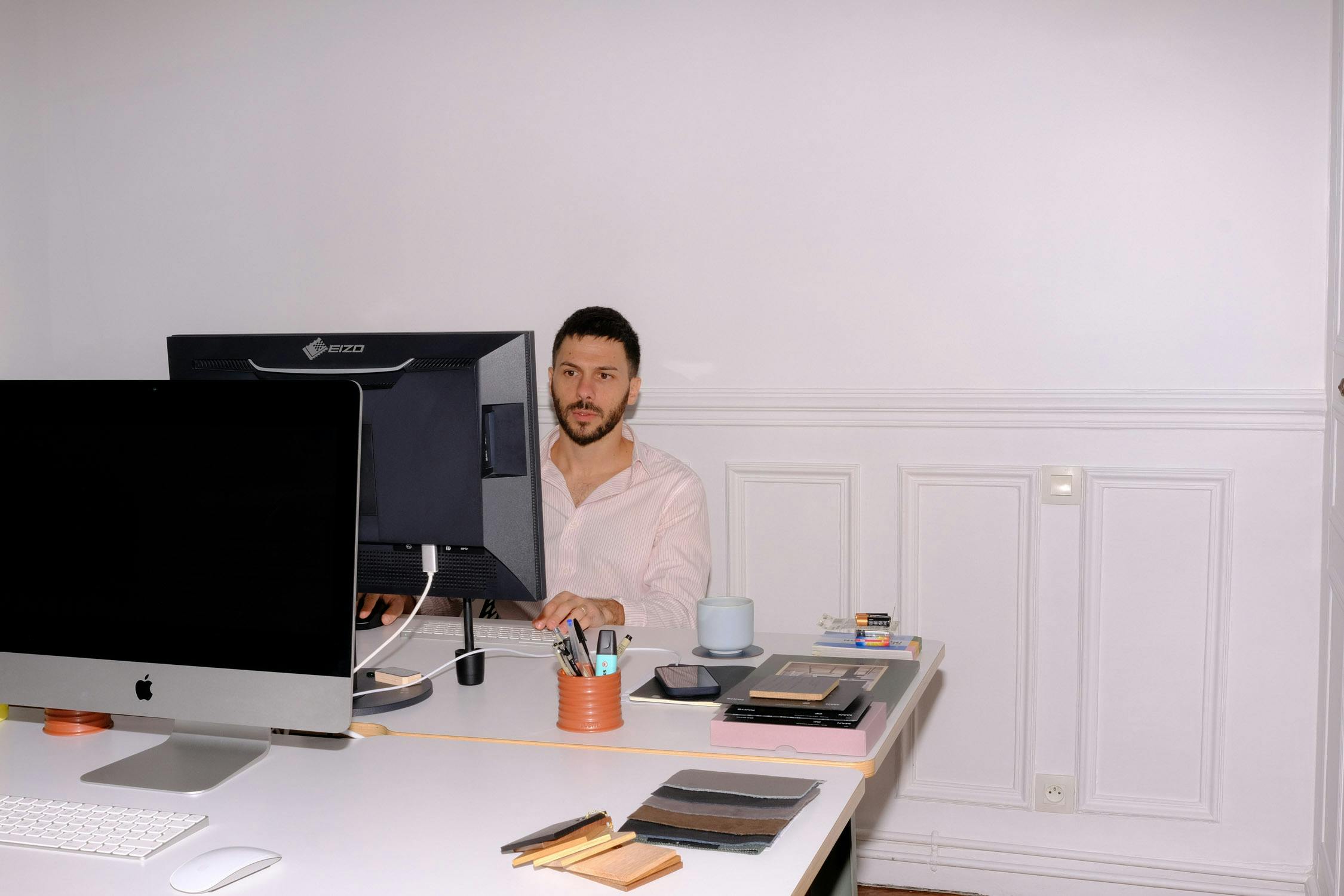 You've just opened this magnificent showroom in Paris. Did you feel this was necessary for your growth? And how often do you change the pieces in the showroom? Do you also sell the pieces in your showroom? 

Vous venez d'ouvrir ce magnifique showroom à Paris. Cela vous a-t-il semblé nécessaire pour la croissance de votre entreprise ? Et à quelle fréquence changez-vous les pièces du showroom ? Vendez-vous également les pièces présentes dans votre showroom ? 

L_ We opened our showroom two years ago, three years after we first started. We felt it was necessary for our French and Parisian customers, who wanted to see us in person.
This led us to change the way we work. We now meet our customers more often, we can present them with new products, samples, etc. Our showroom is a bit of a 'hidden space' - since it's not a shop with a storefront on the street. We're in a flat on the 5th floor, so you don't just get there by chance, it's more of a deliberate effort. We see this space more like a B2B showroom, a place for us and our customers to work.

L_ On a ouvert ce showroom il y a deux ans, soit trois ans après notre ouverture. On a surtout senti que c'était nécessaire pour notre clientèle française, parisienne qui voulaient nous voir en personne.
Cela nous a poussés à changer un peu notre façon de travailler. On rencontre désormais plus souvent nos clients, on fait des RDV de travail, on leur présente des nouveautés, des échantillons, etc. Il faut préciser aussi que notre showroom est un peu un 'espace caché', il ne s'agit pas d'une boutique donnant sur rue avec une vitrine. On est dans un appartement, au 5ème étage, donc il faut connaître pour venir nous rendre visite. On a imaginé cet espace avant tout comme un showroom B2B, un lieu de travail pour nous et nos clients.


What's your dream project? If you had one project to complete before the end of 2024, what would it be?

Quel est le projet que vous rêvez de faire ? Si vous aviez un projet à réaliser d'ici la fin de l'année 2024, quel serait-il ?

L_ I think we'd like to do a project, whether it's commercial or residential, like a house, a flat or a hotel, that's entirely decorated with Savannah Bay pieces, like a kind of all-over.
Q_ But you wouldn't have the impression that it's just one brand or one gallery at work because we have a good range of things. So, in fact, you can do it without it feeling like a total look because we have everything you need: tables, storage...

L_ Je crois qu'on aimerait faire un projet, que ça soit commercial ou résidentiel, comme une maison, un appartement, ou un hôtel, qui soit intégralement décoré avec des pièces Savannah Bay, comme un espèce de all over. 
Q_ Et en même temps, tu n'aurais pas l'impression que ce n'est qu'une marque ou une seule galerie à l'œuvre parce qu'on a assez de choses différentes. Donc en fait, tu peux le faire sans que ça soit un total look, parce qu'on a tout ce qu'il faut, des tables, des rangements…