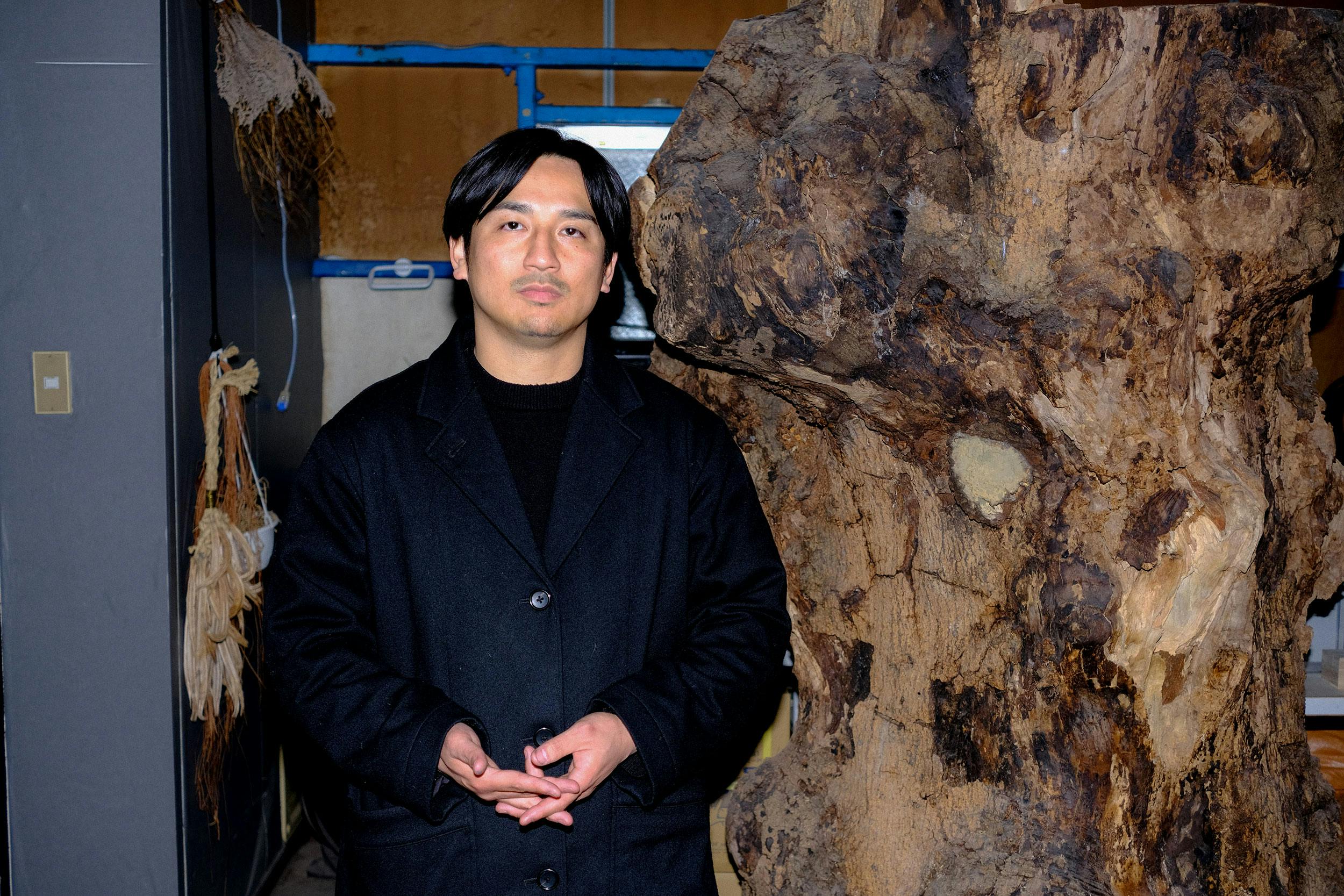 (Shizuoka, Japan)()(Studio Visit)2023-07-11
Studio Visit with Yuki Tsuji
We visit an ancient Samurai's house in Shizuoka to discuss the work of the architect and floral installation designer and Ikebana master, Yuki Tsuji
---
Starting his career in Architecture, Yuki Tsuji found inspiration in the work of Spanish architect Gaudi and how he approached architecture from a position of the ability to integrate nature from a child's perspective. Later learning more about the ancient Japanese craft and philosophy of Ikebana, Yuki-san's practice developed into a multidisciplinary studio working between architecture, ikebana, floral installations and retail. We visit him at a centuries-old Samurai estate where he is in the midst of setting up a conceptual florist to discuss his practice and way of life, which he hypnotically told in such a considered and poetic way.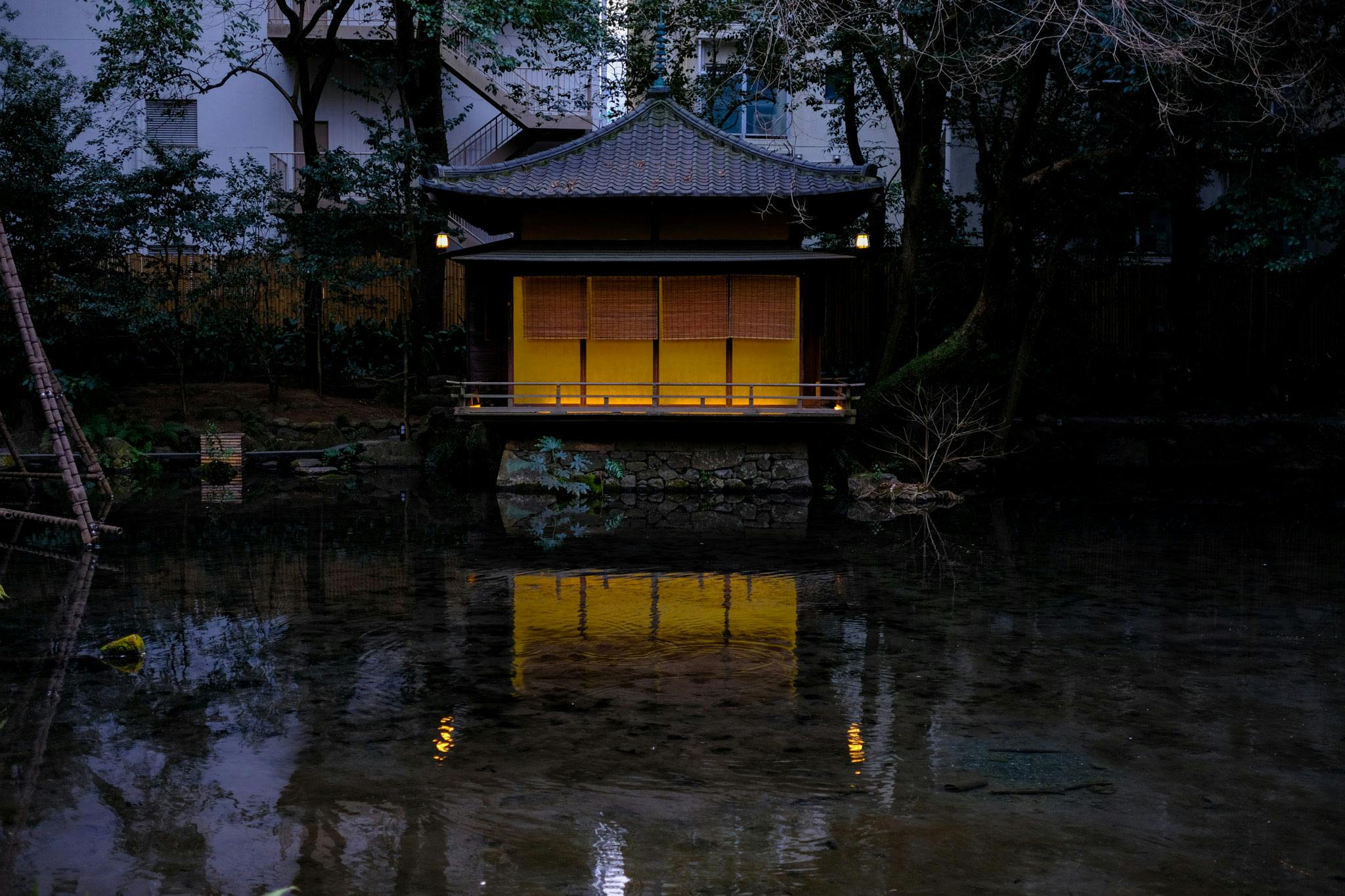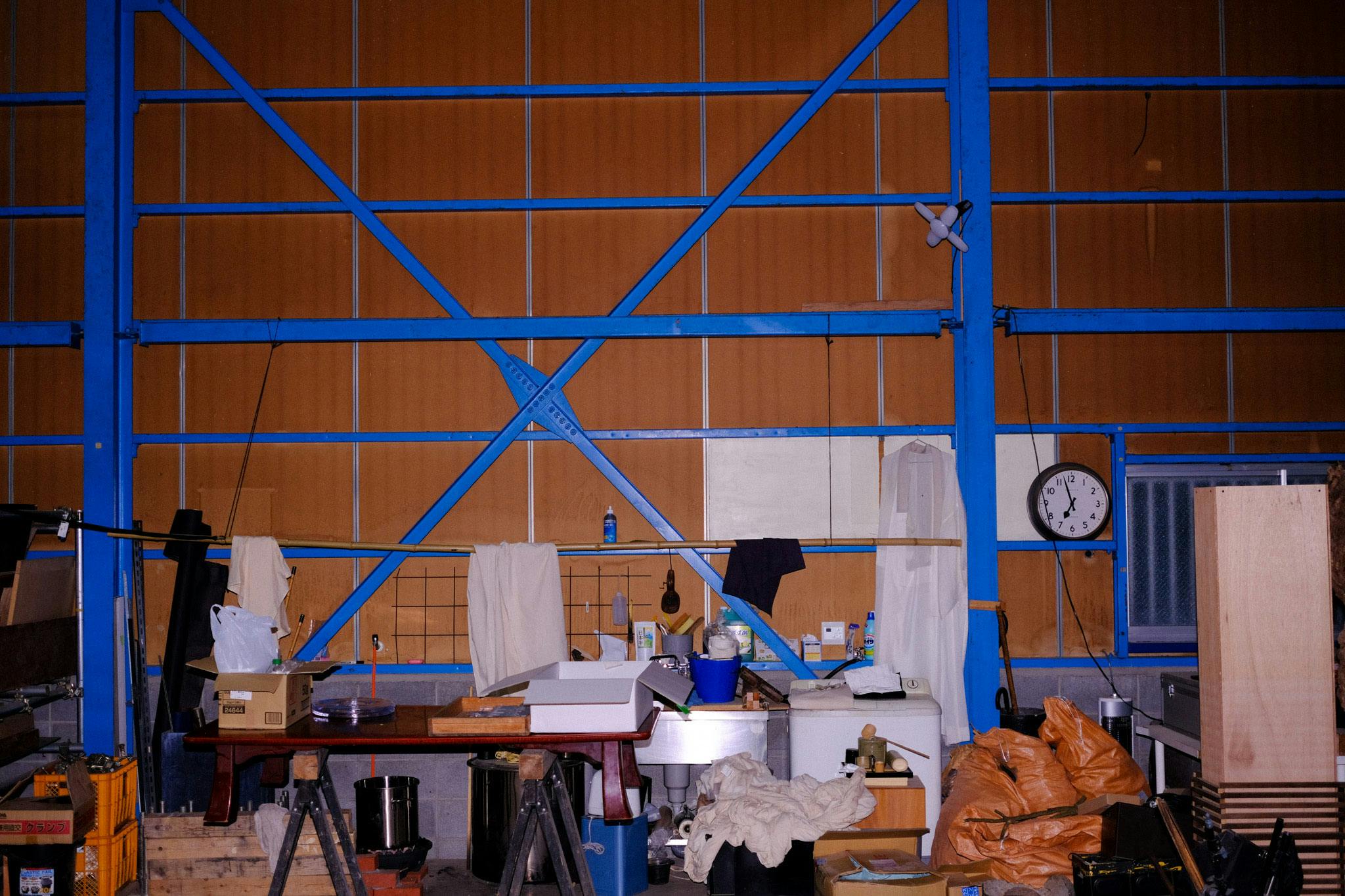 Kristen de la Vallière_ Can you please introduce yourself and what you do, Yuki?
クリステン・デ・ラ・ヴァリエール_ まずは自己紹介をお願いします。

Yuki Tsuji_ My name is Yuki Tsuji, and I am an Ikebana flower arrangement artist. I am engaged in various activities across the domain of spatial art connecting the ancient Japanese culture of Ikebana with contemporary life.

Ikebana is like a child of Japanese architecture. In addition, there is a Tokonoma (alcove) in the Japanese-style room, one corner of the room is used as a gallery, where flowers are arranged according to the seasons. Ikebana is also an expression of prayer. For example, summer in Japan is hot and humid, which causes many fungi to breed and epidemics to spread frequently. Since ancient times, Japanese culture has strongly believed that plants have the ability to ward off evil spirits.


辻雄貴_ 華道家の辻雄貴と申します。いけばなという日本古来の文化を現代と接続する空間芸術を念頭にさまざまな活動をしています。
いけばなは、日本の建築の子供のような存在です。そして、和室の中には床の間という存在があり、部屋の一角をギャラリーにして四季に応じて彫刻するのが生花です。
またいけばなは、祈りの一つの表現でもあります。例えば夏は、日本は高温多湿なため菌の繁殖が多く、疫病が頻繁に流行していたため、そのような災い祓うためにお祭りや神事が生まれた経緯もあります。日本の壮大な自然環境の中からどのように豊かに暮らしていくのかを考えてきた日本人において、植物は邪気を払う機能があると強く信じられてきたのが日本古来の文化です。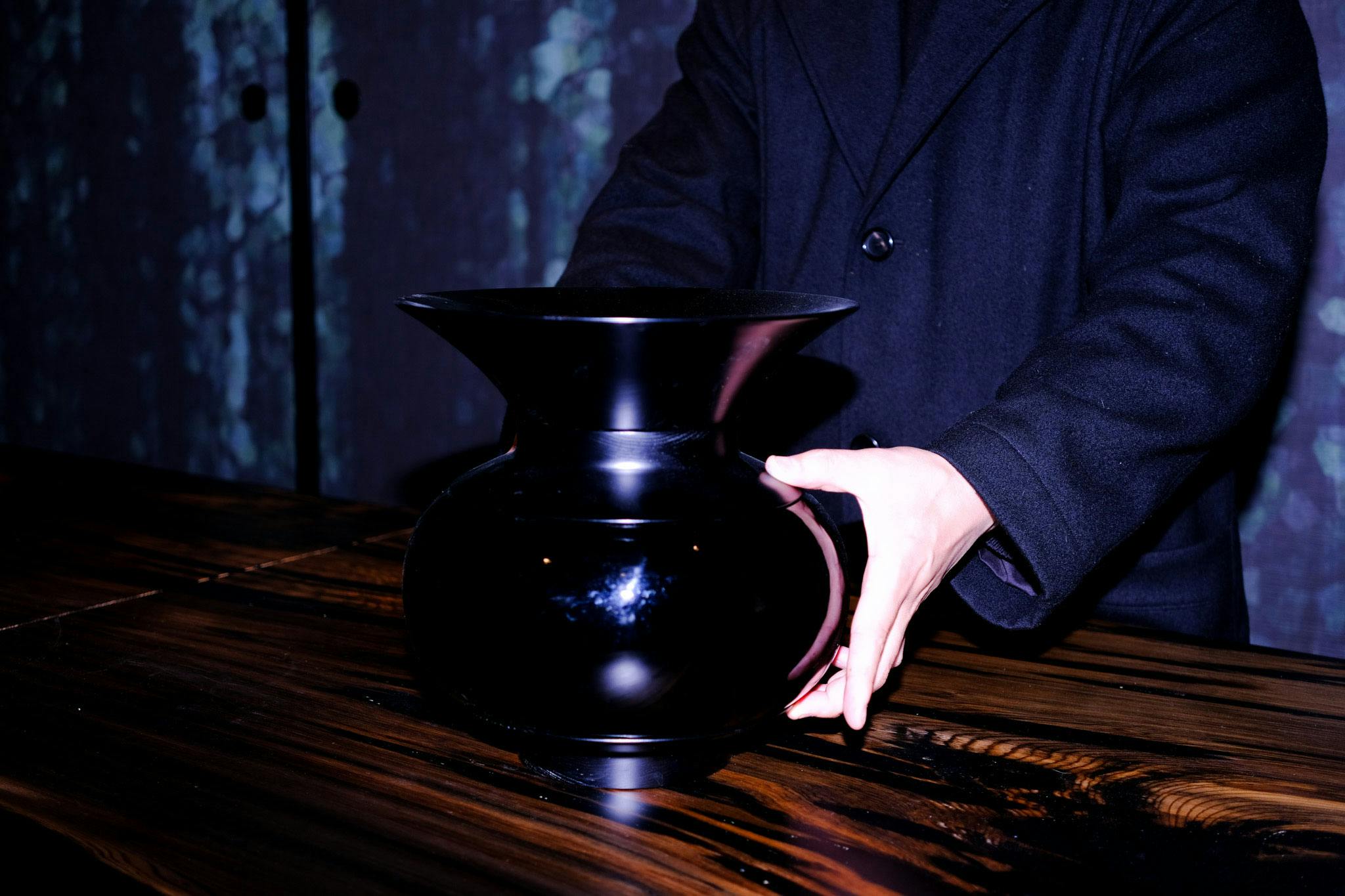 What is the history and origins of Ikebana?
いけばなが誕生した歴史について教えてください。

The syncretisation of Shinto and Buddhism gave rise to the idea of Ikebana. In Japan, there is a sense of value that God exists in everything. It is based on the idea that there are many different kinds of life in nature, just as there are many kinds of plants in each season. The belief that plants and humans exist in the same natural world is said to be the source of Ikebana. Ikebana is an art created by combining human imagination and the vitality of plants.

アミニズムと仏教の融合である「神仏習合」から、いけばなという発想が生まれました。日本にはあらゆるものに神様がいるという価値観があります。例えば季節ごとに何種類もの植物があるように、多様な生命が自然にが宿っているという考え方に基づいたものです。植物も人間も同じ自然界に存在する命として信仰する形が、生花の源流と言われています。人間の想像力と、植物の生命力を掛け合わせて生まれた芸術がいけばなです。
How did you become a flower arrangement artist after majoring in architecture as a student?
学生時代に建築を勉強する中で、いけばなへ興味を持ったきっかけは?

I am greatly influenced by Gaudi. Seeing his architecture, which captures nature with a child's outlook, inspired him to become an architect. When I was thinking about how to create a space using nature like him, as a Japanese person, I realised that the space using nature is used in Karesansui and gardens. I noticed. This is how I got to Ikebana.

ガウディに大きな影響を受けているのですが、童心をもって自然を捉える彼の建築を見たのがきっかけで私自身も建築を志しました。彼のような自然を使った空間づくりを日本人としてどう落とし込むかを考えていたときに、自然を使った空間というのは日本の枯山水や、庭づくりに生かされているものだということに気がつきました。これがいけばなにたどり着いた経緯です。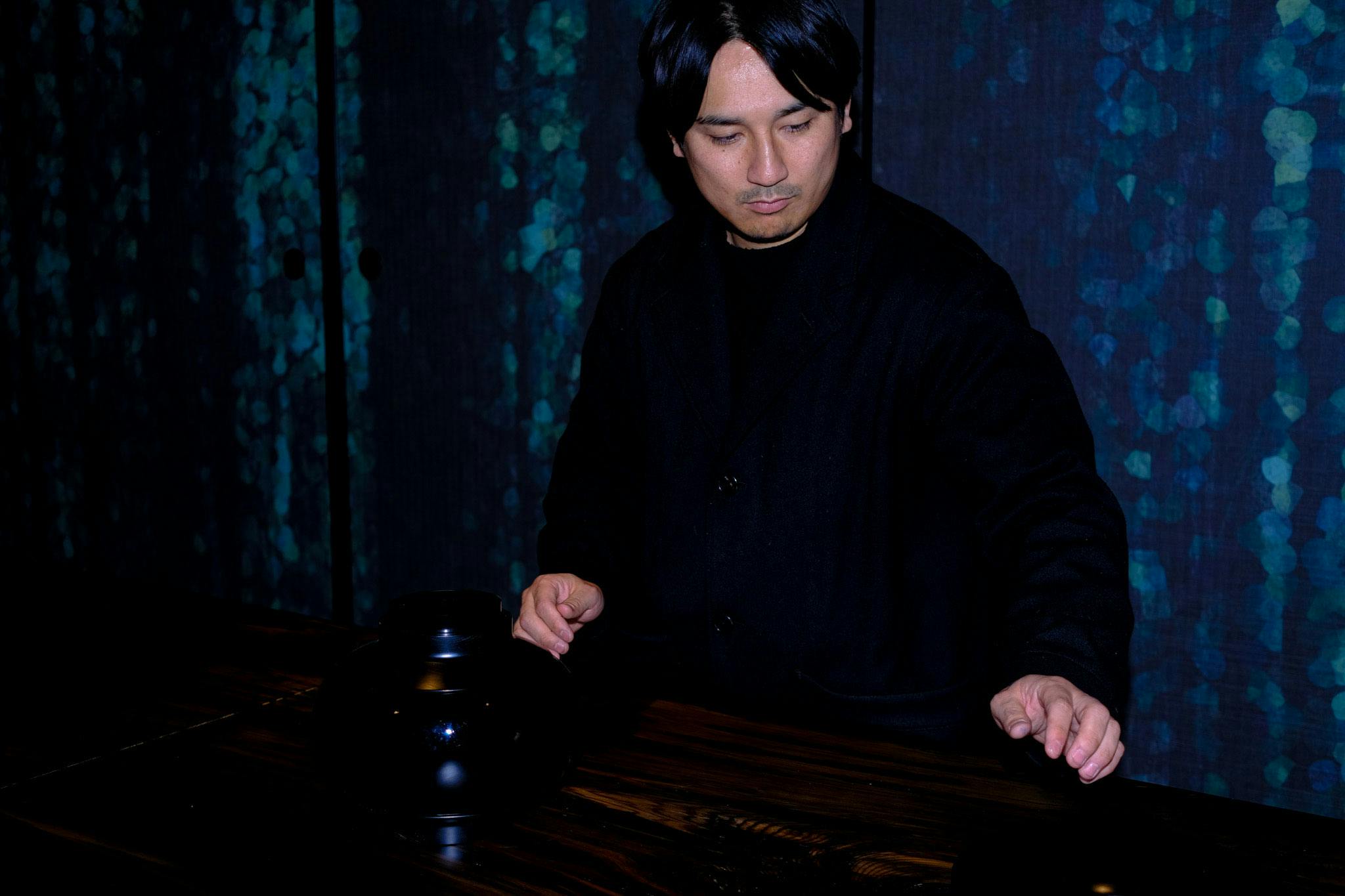 The
20th
century
saw
an
increase
in
the
number
of
architectural
projects,
along
with
the
evolution
of
technology
to
create
them.
That's
why
I
made
the
concept
that
the
building
returns
to
the
garden.
Ikebana
is
an
abstract
art
that
combines
human
imagination
and
the
vitality
of
nature.
I
would
like
to
combine
this
idea
with
the
abstract
shapes
of
mountain
landscapes
to
create
a
design
that
utilises
natural
materials.
Yuki Tsuji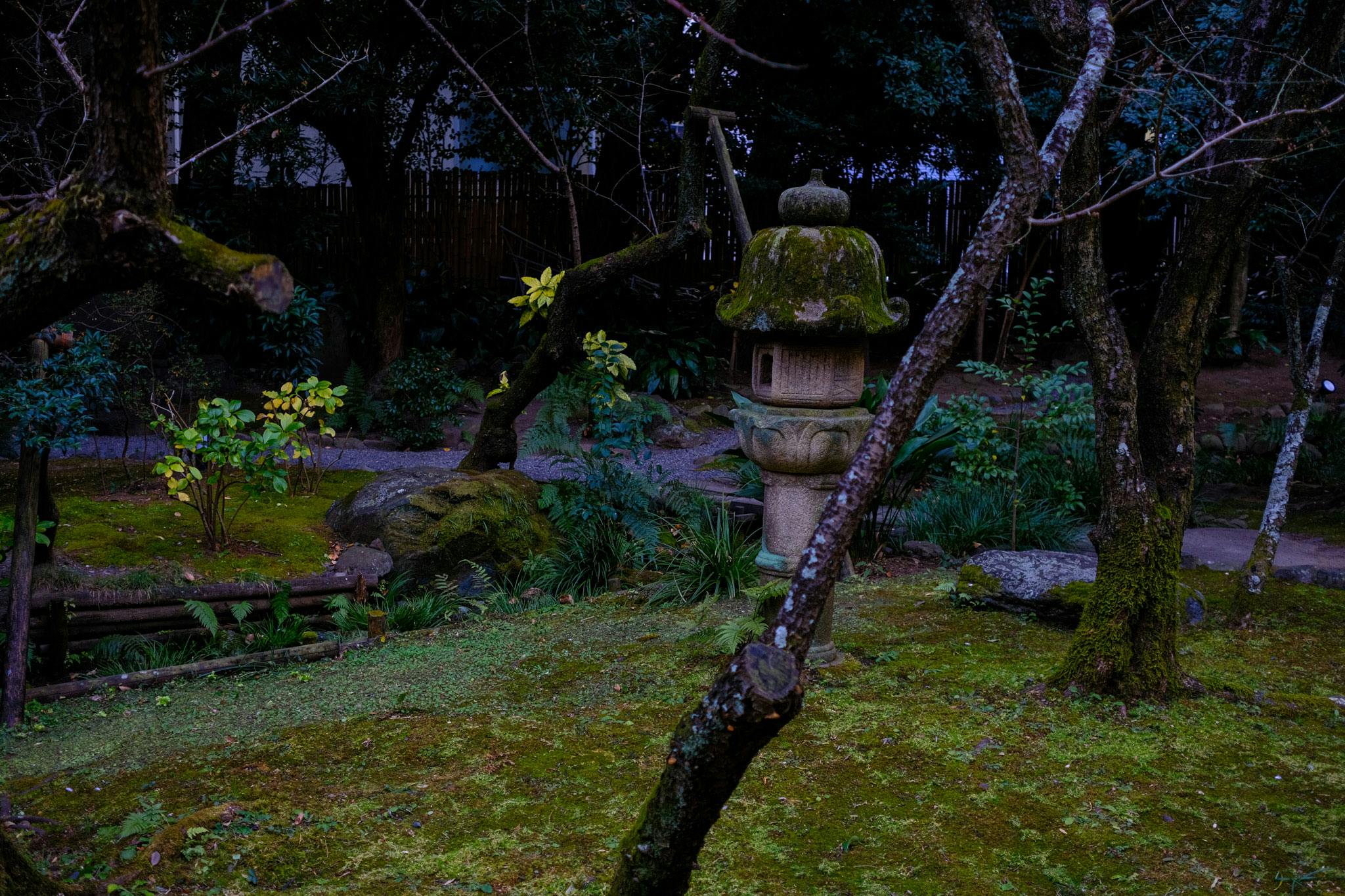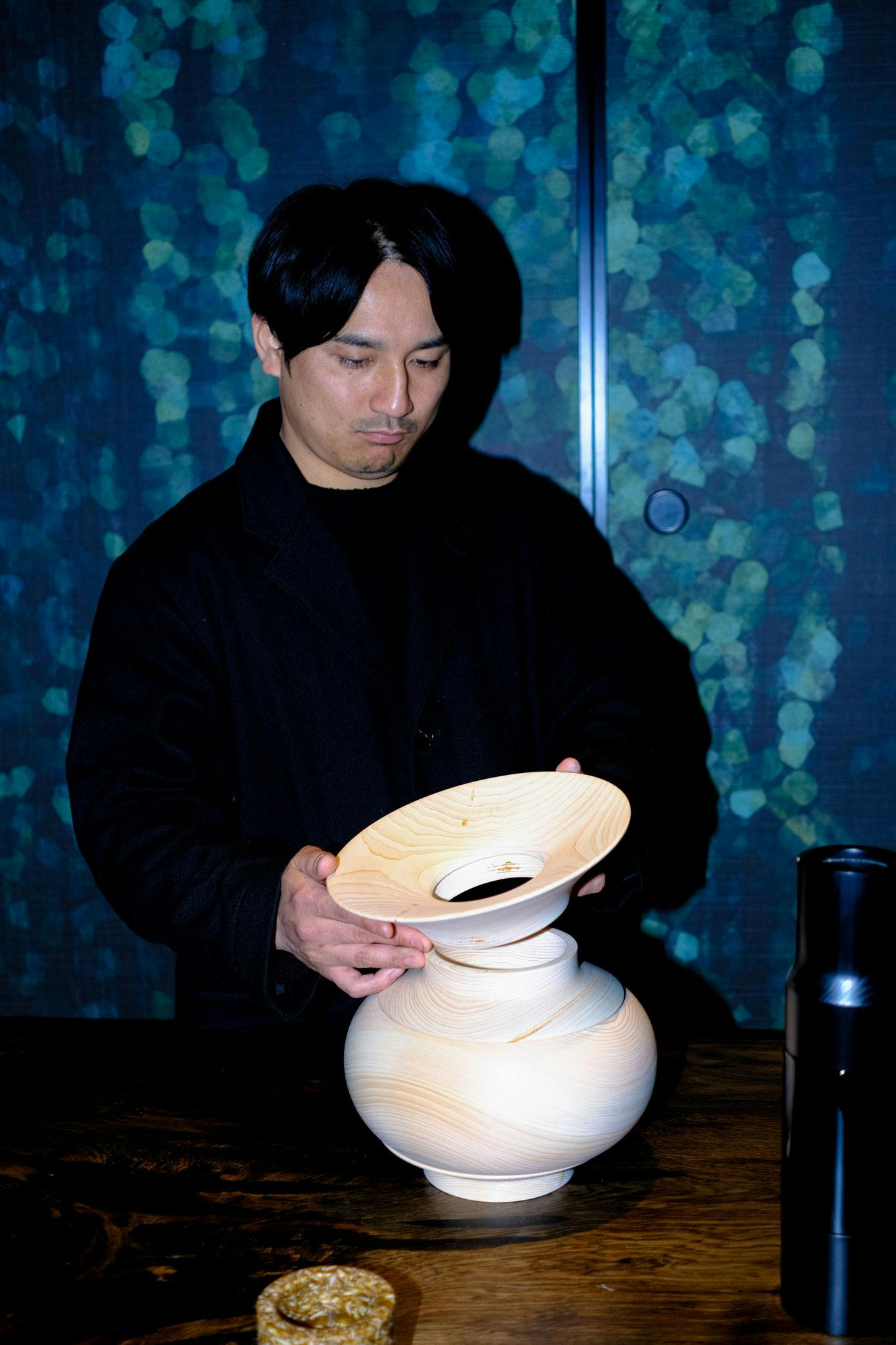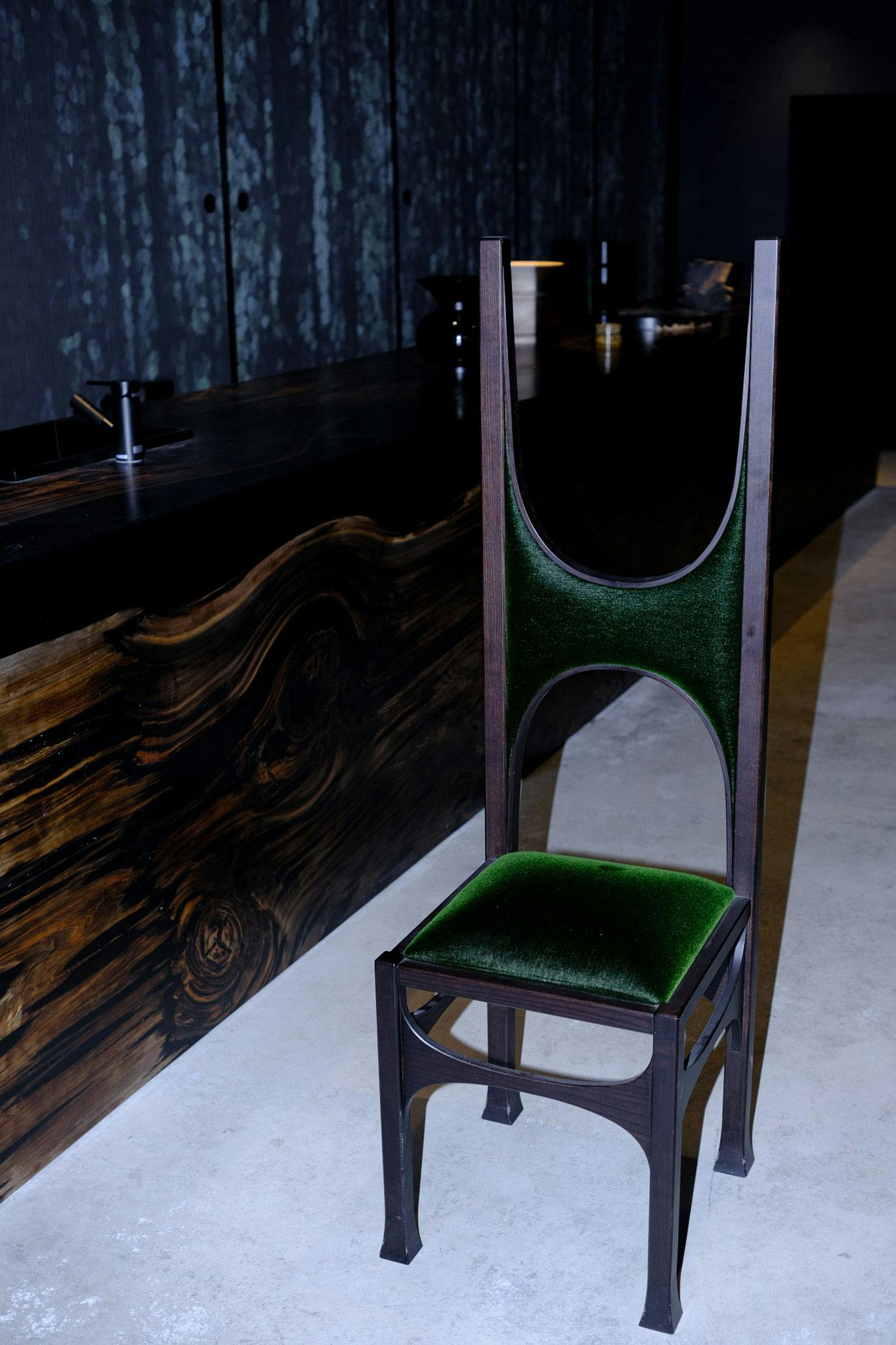 What are your recent projects?
最近はどのような活動をされていますか?

Fugetsuro is a project that I have been working on for over a year, and I am designing architecture and gardens based in the spirit of flower arrangement. Mt. Fuji is in Shizuoka, and I think it is the place with the most natural power in Japan. And the place where the source of life gathers from the mountain is the pond in the garden of Fugetsuro. There are three buildings around the pond, and we are renovating one of the buildings with an architectural design concept that blends the old and the new.

浮月楼はここ1年間以上かけて手がけているプロジェクトで、いけばなの精神をベースに建築や庭園を設計しています。静岡は富士山の存在もあり、日本で一番自然の力がある場所だと思っています。そして山から命の源が集まっている場所が浮月楼の庭園にある池です。池の周りには3つの建築物があり、古い建物と新しい建物の間に新旧を融合させたコンセプトで新たな建築物デザインをしています。

The 20th century saw an increase in the number of architectural projects, along with the evolution of technology to create them. That's why I made the concept that the building returns to the garden. Ikebana is an abstract art that combines human imagination and the vitality of nature. I would like to combine this idea with the abstract shapes of mountain landscapes to create a design that utilises natural materials.

And here, based on the keyword "Ikebana", we are trying to create a new type of flower shop that has never been seen before, where Japanese craftsmanship is gathered and operated by a group of craftsmen. From young to veteran artists, dyeing craftsmen, graphic designers, photographers, and other creators of various genres, we would like to work together to create art that is born out of harmony with nature.

20世紀は建築を作る技術の進化と共に、建築物が増加しました。だからこそ、建物が庭に還っていくというのをコンセプトにしました。人間の想像力と自然の生命力を掛け合わせた抽象的な芸術がいけばなですが、その考え方を抽象的な形状を持つ山の風景と重ねて、自然のマテリアルを活用した設計にしようと思っています。そしてここでは、いけばなというキーワードをもとに日本のものづくりが結集し、職人集団が運営している今までになかったような新しい花屋を作ろうとしています。若手からベテランまで、染色の職人やグラフィックデザイナー、カメラマンなども多様なジャンルのクリエイターと共に、自然との調和から生まれる芸術をみんなで作り上げていきたいです。


Recently, along with performing arts such as Kabuki and Noh, I am also focusing on creating works and scenography created utilising nature. I think that the Japanese worldview can be conveyed by seeing Kabuki and Noh performances and their scenography, so I would like people from overseas to see and experience it.

また最近は、歌舞伎や能などのパフォーミングアートとともに、自然の中で作る作品や舞台美術を作ることも注力しています。歌舞伎や能のパフォーマンスとその舞台美術をご覧いただくことで、日本人のもつ世界観が伝わってくると思うので、海外の皆さんには是非見ていただきたいです。


What kind of services will be offered in Fugetsuro?
浮月楼はどんなことができる場所になるのでしょうか?

We plan to sell products and sculptures inspired by flowers, bonsai, and fresh flowers. Even a single type of flower can be divided into hundreds, and I would like to collect and sell the most powerful flowers among them. We are also planning events and Ikebana workshops. The first installation is scheduled for this autumn.

お花と盆栽、そしていけばなからインスピレーションを受けたプロダクトや彫刻を販売する予定です。花は一つの種類でも、何百種と細かく分類されますが、その中でも力の強いものを選定して販売していこうと思っています。また、イベントやいけばなのワークショップなども計画しています。そして最初のインスタレーションは今年の秋に行う予定です。

This is a flower vase made of cypress. The structure is designed so that the parts can be disassembled, and this is inspired by traditional Japanese architectural techniques. The structures can be dismantled one by one so that Japanese architecture can also be moved. This will be on sale on our website, so you can buy it.

これはヒノキでできたフラワーベースです。パーツを分解できる構造になっていますが、これは日本の伝統的な建築技法からインスピレーションを得ています。日本の建築も移動することができるように、構造を一つ一つ分解することができます。これは今後ウェブサイトで販売していくので、購入していただくことができます。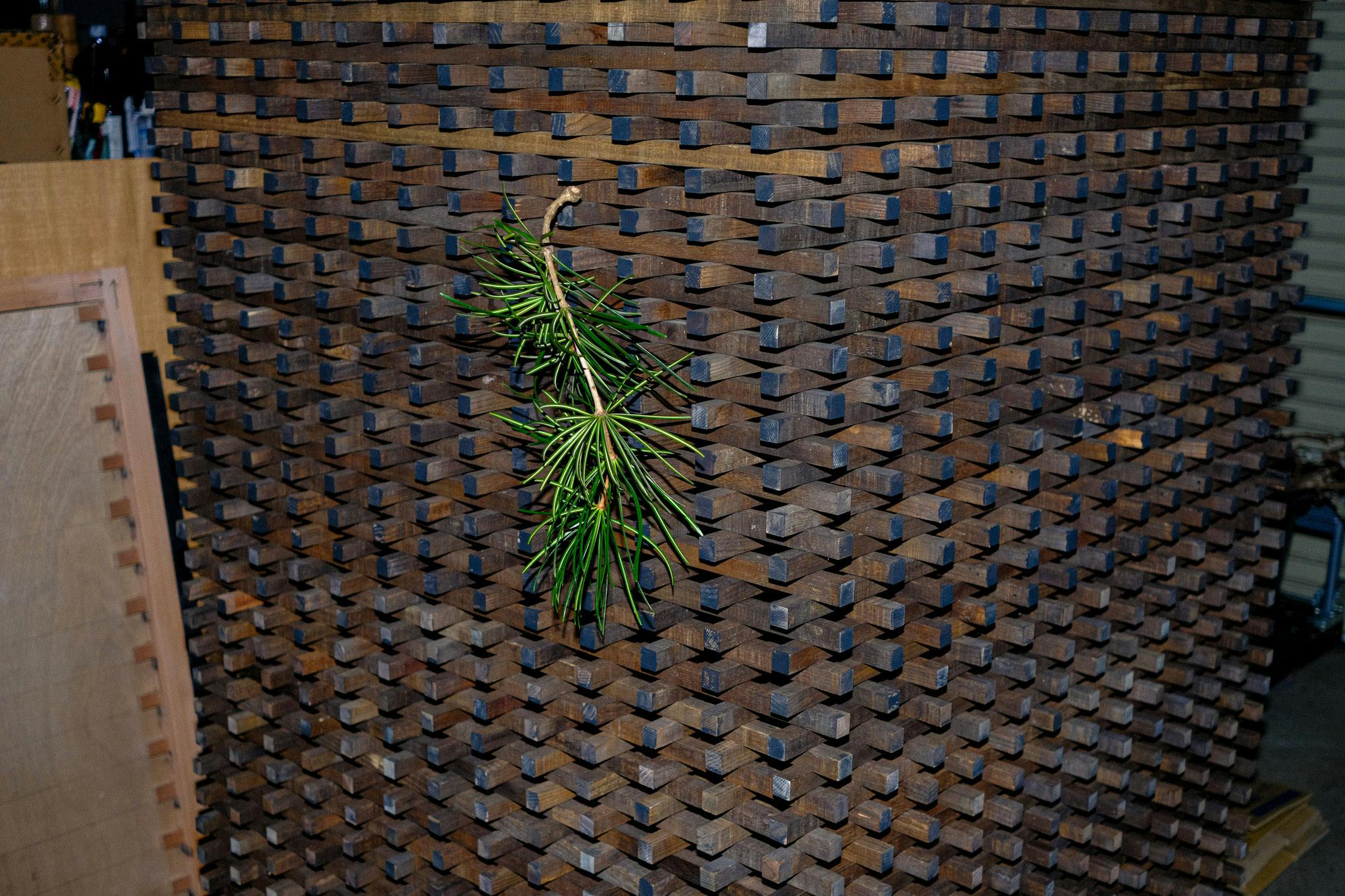 What was the project you did with Cartier?
カルティエとの竹にまつわるプロジェクトについて教えてください。

Cartier was a project where we wanted to showcase contemporary Japanese culture to audiences overseas. What is happening here in Japan now. The concept was to create a Japanese forest with Ikebana. Forests in Japan cannot grow unless humans take care of them properly. In order to convey that, I used beautiful Japanese bamboo as a material to express that idea.

カルティエのプロジェクトでは海外の方々へ向けて、「今の新しい日本の姿」を表現する仕事でした。そこで、日本の森をいけばなで作ったというのがコンセプトです。日本の森は人間がきちんと手入れをしないと育てることができません。それを伝えるために、日本の美しい竹をマテリアルとして表現しました。

The project with Armani made use of bamboo chips obtained from abandoned bamboo forests. The concept of this work is to use bamboo and resin to confine life. From the beginning to the end of every project, I try to select materials with the Japanese mountains in mind. I believe that solving nature's problems will result in beautiful art.

アルマーニとのプロジェクトでは、放置竹林で整備をした竹のチップを活用しました。竹とレジンを活用して、命を封じ込めるというのがこの作品のコンセプトです。私は全てのプロジェクトにおいて、始まる前から完了するまで日本の山が喜ぶことを念頭にマテリアルを選定するようにしています。自然が困っていることを解決することが、結果として芸術として美しくなると考えています。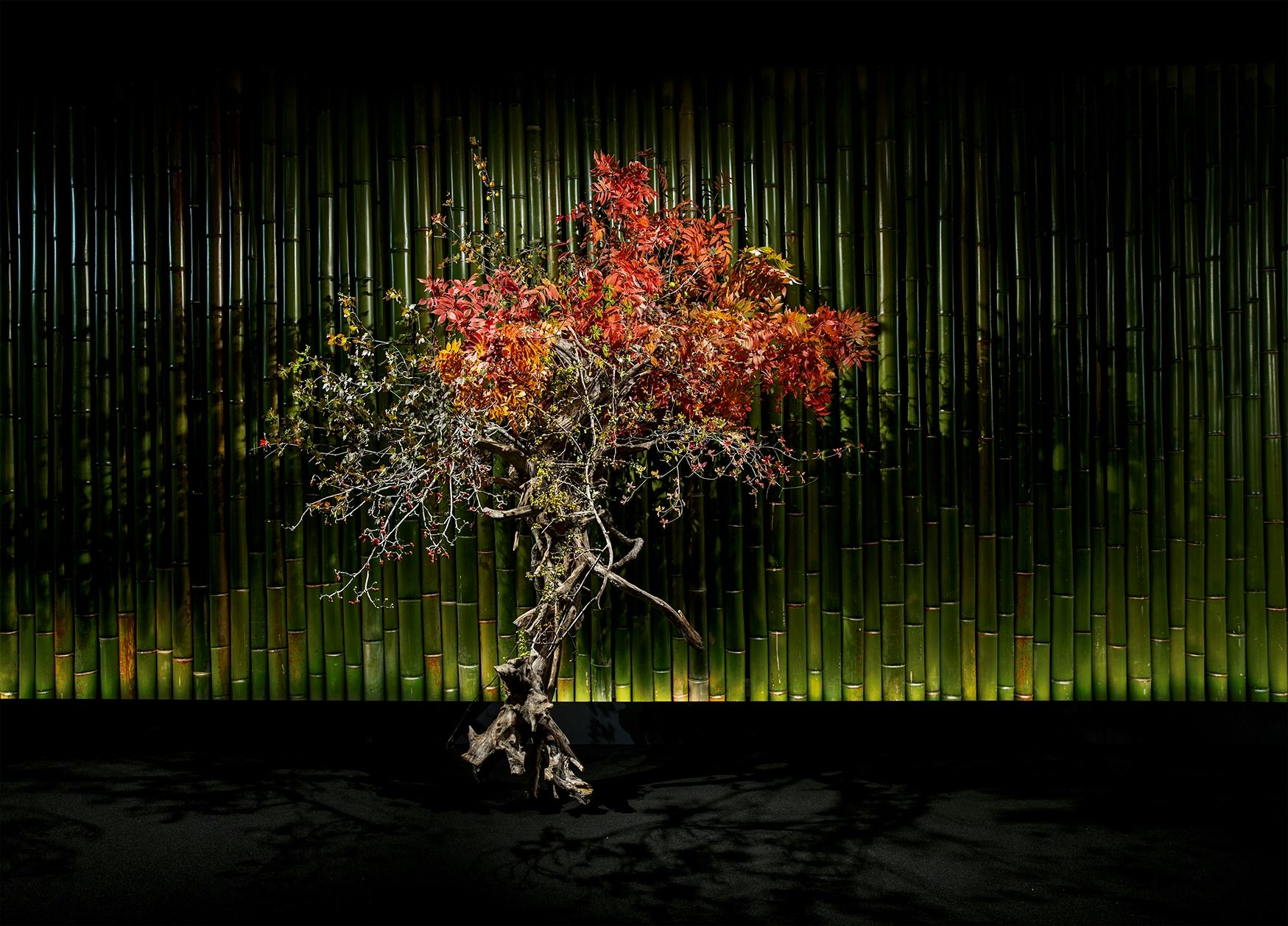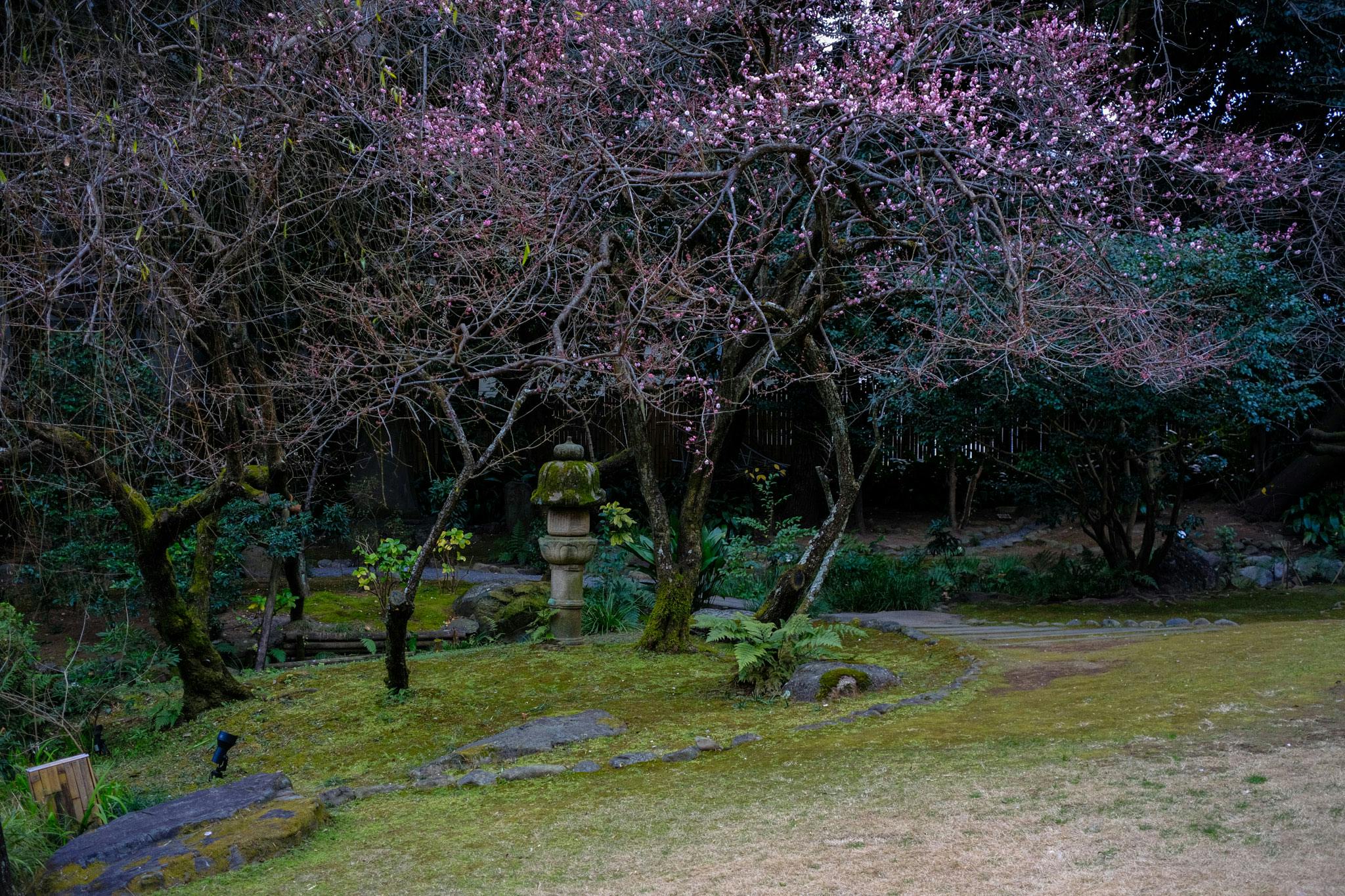 What is the relationship between Japanese architecture and gardens?
日本の建築と庭の関係について教えてください。

In Japanese architecture, there is the word, Iori (retreat). This is a word that describes a tea room, and it expresses the idea that there are long, thin leaves that can be tied together to create a building and then unwound to turn them into soil. Therefore, the garden is originally at the centre of architecture, and architecture is completed with the help of nature, so I believe that architecture is centred on the garden.

When I think about the design, I associate characteristics such as vegetation from the garden and consider what kind of architecture works well with it. I think about design from the perspective of what would please nature, in a way, not what I want to make.

日本の建築には庵という言葉があります。これは茶室を表す言葉で、細長い葉っぱがあってそれらを結ぶと建築が出来上がり、それを解くと土に変えるという考え方を表したものです。なので、もともと庭というのが建築の中心にあって、自然から力を借りて建築が出来上がるので、建築は庭が中心であると考えています。

私が設計をするときは、そこにある庭から植生などの特徴をインプットしてどんな建築が良いのかということを考えていきます。自分が作りたいと思うものではなく、自然が喜ぶものは何かという観点でデザインしていますね。
Why do you think Japanese architecture puts less value on older buildings compared to the way we view older architectural structures in Western societies?
日本の建築は西洋と比較して、古い建物に価値を置かないのはなぜだと思いますか?

In the past, Japanese people had a sense of value that captured the beauty of withered flowers, but this is rapidly disappearing. This may be the cause of the loss of the culture of cherishing old buildings.
かつての日本人には、枯れた花の美しさを捉える価値観があったのですが、それがどんどん失われてしまっています。ひょっとしたらそれが、古い建物を大事にするという文化が失われる理由になっているかもしれません。
What is your dream project?
辻さんのドリームプロジェクトは?

I would like to use the Ikebana philosophy to create an art museum that addresses the problems of developing countries. There is a way of thinking that fresh flowers revive and give life. I would like to do a project in a developing country coming from this way of thinking, this philosophy to see if it could create new types of solutions to social problems.

いけばなのフィロソフィーを生かして、途上国の問題を解決するような美術館を作りたいです。生花は命を生き返らせることや、命を与えるという考え方があります。そのような考え方を社会問題の解決方法の一つとして、途上国でプロジェクトをやってみたいです。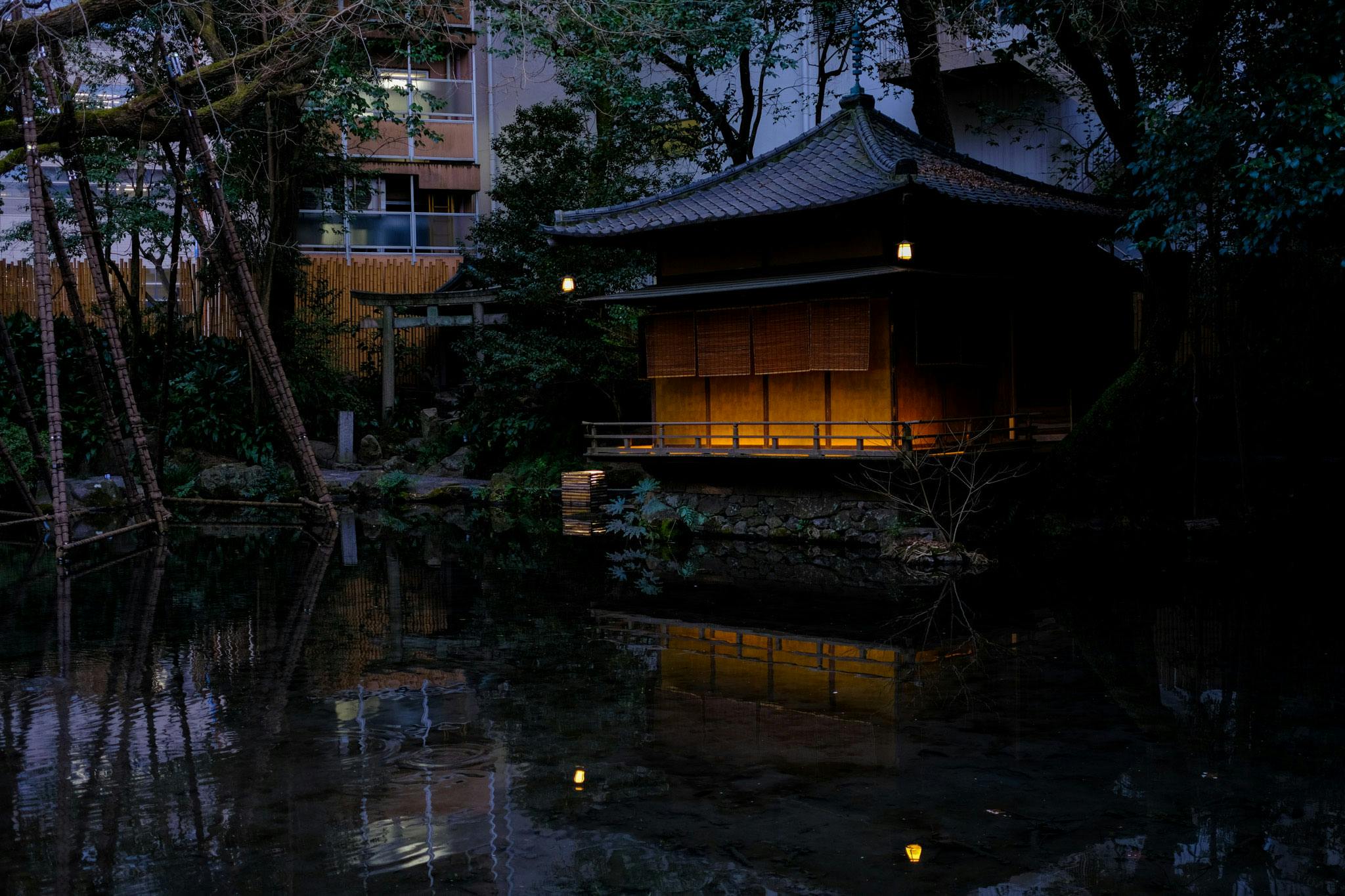 When
I
think
about
the
design,
I
associate
characteristics
such
as
vegetation
from
the
garden
and
consider
what
kind
of
architecture
works
well
with
it.
I
think
about
design
from
the
perspective
of
what
would
please
nature,
in
a
way,
not
what
I
want
to
make.
Yuki Tsuji